Chef John Ash prepares a small but delicious bite of Spain, sharing his favorite tapas recipes
Tapas have taken the world by storm. You can find tapas bars everywhere, including Asia, where I've seen Thai and Vietnamese "tapas," and New Orleans, where I've seen "Cajun" tapas.
The origin of tapas is a bit of a mystery, but the most commonly accepted theory is that Spanish bartenders at farmers' bars would serve beer or sherry and "top" it with a small saucer to keep the flies and the dust out. Tapa literally means "a cover" or "a lid" - and this is a common thread to many tapas origin stories.
It didn't take bartenders long to realize that they could use the saucer to serve some nuts, a little ham, some olives, some cheese. This clever move made customers come back, thanks to the bar's apparent generosity.
Another theory is that since tapas bars used to be standing only, customers who ordered a snack had nowhere to put their plate except on top of their glass - hence the tradition was born.
Still another theory claims that some unscrupulous tavern keepers discovered that, if they covered cheap wine with a plate of strong cheese or meat, customers wouldn't notice how bad the beverage was.
The tradition of serving small bites with drink to begin the meal (or make it a meal) is now widespread, and of course, the Holy Grail for tapas is Spain and Portugal, where you'll find tapas bars everywhere.
During harvest season, a tapas party celebrating the bounty of Sonoma County's late summer tomatoes and peppers and figs is a terrific excuse to get together with friends and family in the backyard.
Following are some of my favorite tapas. Salud!
___
This is one of the classics in Spanish tapas presentations. You'll see the bread piled decoratively at the bar to be eaten as is or topped with shaved cheese such as Manchego, thinly sliced Serrano or Iberico ham, smoked salmon or other fish, white sardines, etc. You get the idea! I've included below a note from a diary that I kept on my first trip to Spain in 1994.
Catalan Tomato Bread (Pa Amb Tomaquet)
Serves 4
4 slices peasant-style bread, sliced thickly
- Fresh garlic cloves
1 ripe tomato
- Extra virgin olive oil
- Sea salt
Take thick slices of good peasant-style bread and grill or toast it so that it is just beginning to turn golden but still soft inside. Rub with a cut fresh garlic clove and then rub with a ripe tomato that has been cut in half and gently squeezed to remove seeds and excess moisture. As you are rubbing be careful not to moisten the bread too much. Serve immediately drizzled with a fragrant olive oil and a little sea salt either as is or as a base for other toppings.
Note from Spain: "I had this today for the first time and it's got to be one the simplest yet most delicious nibble I've ever had. Now that I've had it, I see it everywhere. The ingredients are very simple but depend on the ripest tomatoes and good crusty bread with a sturdy texture. It was served with little plates of roasted red peppers, fried capers, slices of hard-boiled egg, sweet onions, olives, sliced manchego and cabrales cheese, thinly sliced serrano ham, all accompanied with a choice of either a glass of nutty sherry or a cold Cava (crisp, dry Spanish sparkling wine). I'm in heaven!"
___
Here's a contemporary version from José Andrés book "Tapas: A Taste of Spain in America," ( Clarkson Potter 2005).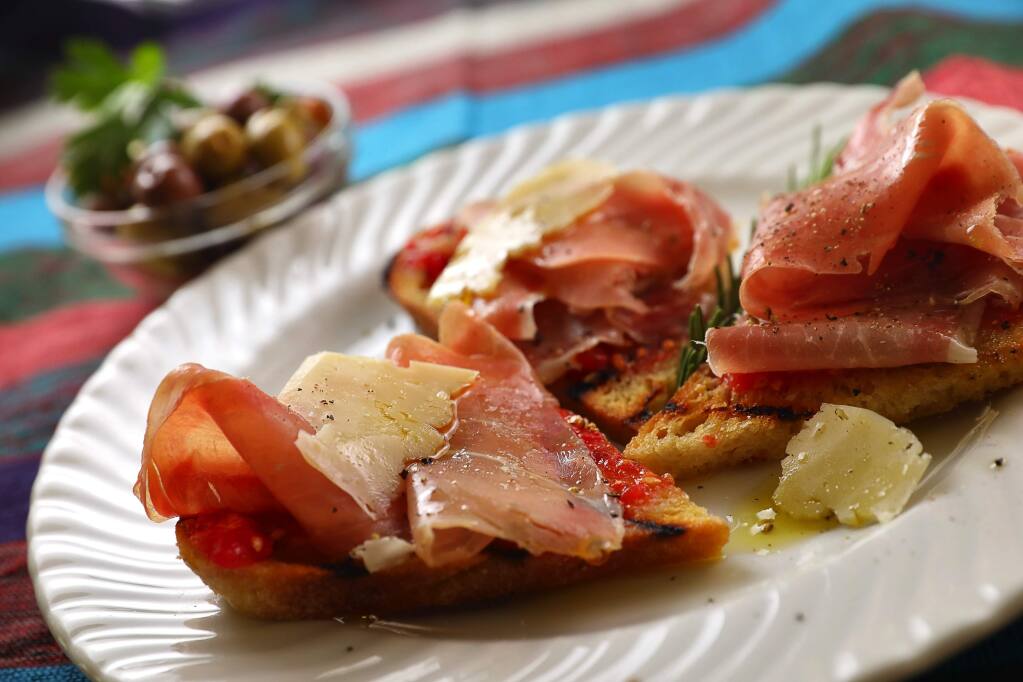 Tomato Toast with Spanish Ham (Pan con tomate y jamon serrano)
Serves 4
2 very ripe tomatoes
- Spanish extra virgin olive oil
- Sea salt to taste
4 slices rustic bread
4 thin slices jamón serrano
Cut the tomatoes in half and gently squeeze to remove seeds and excess moisture. Place a grater over a large bowl. Rub the open face of the tomatoes into the grater until all the flesh is grated. Discard the skin.
Add 2 or 3 tablespoons olive oil to the grated tomato and season to taste with salt. Toast the bread preferably over a wood-fired grill. (or in a ridged cast-iron skillet.)
Spoon the tomato mixture over the slices of toast. Place a slice of ham on top of each. Drizzle with a little more oil and serve.
___
This uses Spanish chorizo, which is a completely difference animal than Mexican chorizo. It's a cured meat more akin to salami than the raw spicy Mexican version. It's available in good delicatessens and online at sites like La Tienda (tienda.com) or in the Bay Area at The Spanish Table (spanishtable.com).
Chorizo in Red Wine
Serves 4 to 6
2 tablespoons olive oil
1 medium shallot, peeled and sliced
1 medium garlic clove, finely sliced
10 ounces cured chorizo, cut diagonally into 1-inch pieces
2 bay leaves, fresh preferably, or dried