Puerto Rico is the perfect island for a bike tour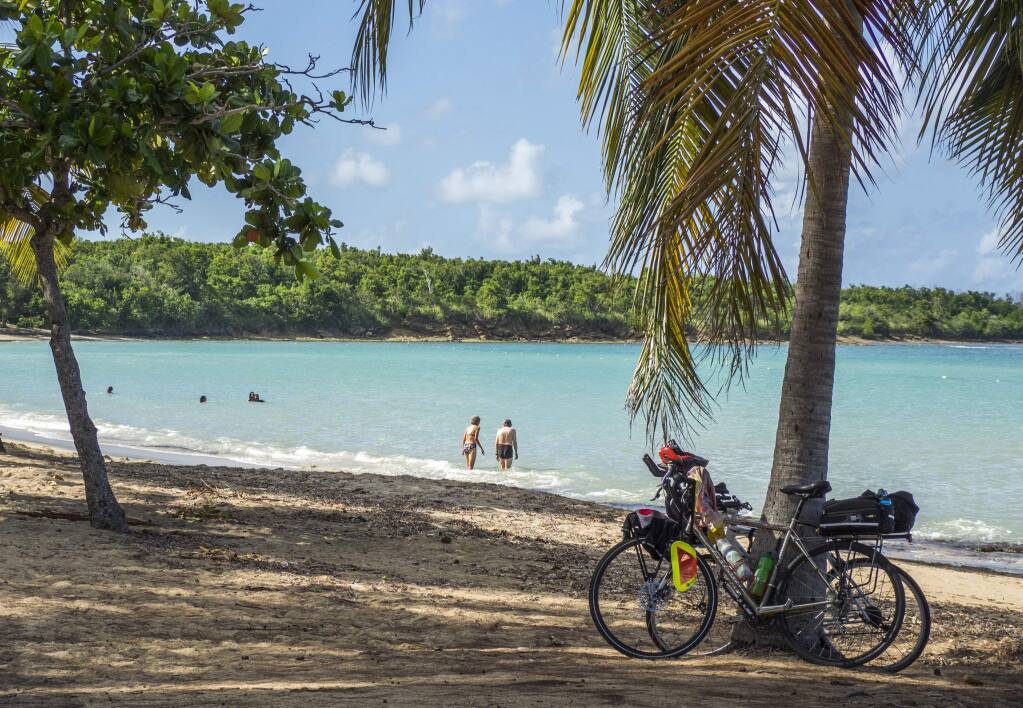 Sweat ran down from under our helmets and dirt sprayed our legs as we rode steel bicycles with heavy panniers under the hot sun along the northern coast of Puerto Rico. The sparkling turquoise ocean on our left beckoned us for a swim, but we were hours away from stopping for the day.
We were on our way to Luquillo, a town 35 miles west of the bustling city of San Juan. After passing iguana roadkill on a quiet, shadeless road, we came across a fruit stand with a large sign that said "Coco Frio."
"We can't pass this up," said Saara Snow, my friend and fellow cyclist, and the travel coordinator at Adventure Cycling, a national nonprofit based in Missoula, Montana, whose guided tour we were on.
There's a lot on the isla de encanto that travelers can't pass up, including tropical fruit, meringue and salsa dancing in town plazas, fried plantains, plentiful rum, lush rainforests, Spanish colonial architecture and white sand beaches - all the more accessible when you're traveling by bicycle.
Resilient on the island
Although Puerto Rico was devastated a year and a half ago by Hurricane Maria, the island has proven its resilience, rebuilt itself and is happily welcoming tourists once again, with lower prices than many other tropical hotspots.
A jolly, older man at the roadside fruit stand spoke rapid Spanish to us and pointed to his offerings of mangoes, papayas, passion fruit, star fruit, guava and enormous coconuts. We ordered a round of coco frio, or cold coconut, and watched him use a machete to artfully chop the tops off so a straw could be inserted for drinking.
We took off our helmets, sat under his canopy and took long sips of fresh, cold coconut water. Nothing tastes better than that on a Caribbean bike tour.
The man wanted to know about us. We explained we were biking around the entire island - nearly 400 miles in 10 days - and we weren't too tired yet. Just hot.
Our Adventure Cycling tour leader, Louis Hernandez, showed up shortly and ordered himself a coco frio, too. We talked about how roadside stops are part of what makes bike tours great, especially in a place like Puerto Rico, where you stumble upon fruit stands and food stalls along the roads, even if you're in a rural area.
"When touring on a bicycle you have less restrictions as to when and where to stop and peruse," said Hernandez, a Puerto Rican New Yorker who spends half the year on the island.
You have the ability to connect in a way you don't with a car, he said.
That coco frio stop would be the first of many along our bike tour, which included five other bike travelers from across the United States. Adventure Cycling offers a 10-day inn-to-inn guided bicycle tour in Puerto Rico, available every December, for $3,349, which covers the cost of food, hotel stays and a tour leader. Most tours require that you bring your own bike, and you can expect to pay your airline $150 each way to transport your bike.
Launching for Old San Juan
The tour starts and ends in Old San Juan, a historic, colorful neighborhood in the capital city with narrow cobblestone streets on the northern coast.
Spend at least a couple of days in Old San Juan, more if you can. Go for a stroll right along the ocean by the magnificent colonial-era Santa Maria Magdalena de Pazzis Cemetery.
Transport yourself over two centuries back in time at the Castillo San Cristobal and Castillo San Felipe del Morro, two 18th-century forts with majestic views overlooking the sea. Admission is $7 for visitors age 16 and up.
Stop at nearby La Perla, an ebullient, historic shantytown where the famed music video for "Despacito," a Top 40 Latin pop and reggaeton song by Luis Fonsi, featuring Daddy Yankee, was filmed in 2016. The neighborhood suffered extensive damage in 2017 from Hurricanes Maria and Irma, and while assistance from the federal government was slow coming and not enough for most residents in this U.S. territory, people we encountered there said they've lifted themselves up to rebuild and they want tourists to come back.
Fonsi also filmed part of his music video at La Factoría, an old terra cotta building with a cozy maze of cocktail bars, meringue and salsa dance floors and a secret wine bar. Candles and fairy lights glow gently for a romantic ambiance. If you're looking for a relaxing, casual place to drink good rum and dance - and feel like you're in the Caribbean - La Factoría is a must.
Two blocks from La Factoría is the Cannon Club Piano Bar at the Gallery Inn, a dimly lit nook filled with paintings and sculptures in an intimate, lush garden that goes up to the rooftop. The decor is bohemian-like - a place you might expect to see artists and writers meeting - and there are Venetian chandeliers, talking parrots and two pianos.
We left Old San Juan and our bike tour made the loop from Fajardo in the northeast, listening to the relaxing sound of coqui frogs at El Yunque National Rainforest on the way; then to Maunabo in the southeast; over to Ponce, an artistic town in the south; then Rincon out west, where surfers are plentiful; then all the way back to Cataño, where there's a Bacardi distillery and where we took a ferry back to Old San Juan.
One highlight was our stop in La Parguera, a town in the southwest with a vibrant plaza and meringue bands playing outside and locals dancing in the streets. It's also a great place to take a boat out to the bioluminescent bay for a magical night swim. Boat rides range from $8 to $12, and there are several right along the docks.
Puerto Rico is a convenient place to travel to, and going there in the midst of a raining Northern California winter is like stepping into a rainbow.
Flights from San Francisco to San Juan range from $330 to $490 in the next month or so through a range of airlines.
Because it's a U.S. territory, no passport is required for Puerto Rico, and the island proved to be a doable bike tour, even for someone in moderate shape. The terrain varies from hilly roads to flat farmlands, designated bike lanes, highway shoulders, residential streets and coastal trails.
"You can't come to Puerto Rico and not fall in love with it," Snow said. "It's a vibrant, colorful, resilient place that you could visit many times and still find more to explore."
You can reach Staff Writer Susan Minichiello at 707-521-5216 or susan.minichiello@pressdemocrat.com. On Twitter @susanmini.