Safari West to rock the 'Sonoma Serengeti' in 25-year bash
The day of Oct. 7 will mark two milestones at Safari West: celebrating the 25-year anniversary of the preserve's public opening, and the night one year ago, when the park and its creatures narrowly escaped being swallowed up by the Northern California wildfires.
On that unforgettable night, owner Peter Lang was able to singlehandedly save the 400-acre wildlife preserve by fighting it with a tangled chain of garden hoses, moving from animal enclosure to enclosure, after staff and family evacuated. He recognizes that his being there is what made the difference but he credits the preparedness of his team as well.
"The emergency planning we did with people was remarkable," said Lang. "With animals, I've said to a lot of people, don't confuse expertise with luck. I was very, very lucky."
The park's 25-year anniversary gathering is planned for the same weekend many will memorialize the most destructive wildfire in California history, and Lang and his team are seizing the moment to recognize the park's past and its resilience. Dubbed "the wildest party ever," and officially entitled "Celebrating 25 Years of Conservation," visitors will get to look back at Safari West's quarter-century of education and adventure in a setting the preserve calls "the Sonoma Serengeti."
Lang remembers the night of last October's fires well: the preserve's overnight facilities were sold out and guests had to be hurriedly evacuated from 30 Botswana-style tents. With fire coming down the hill, the luggage closest to the fire was left behind, the furthest was taken, Lang said, but as much as possible was returned in 48 hours.
"There were little fires I put out that were going to very severely impact something next," said Lang, "and if next had caught on fire then who knows what happens from that point."
Lang was well-rewarded for sticking around. Of the preserve's collection of nearly 1,000 animals that includes cheetahs, giraffes, zebras, rhinos, hyenas and countless exotic species – not one perished in the blaze. He believes a celebration of life this year would not have happened if things turned out otherwise.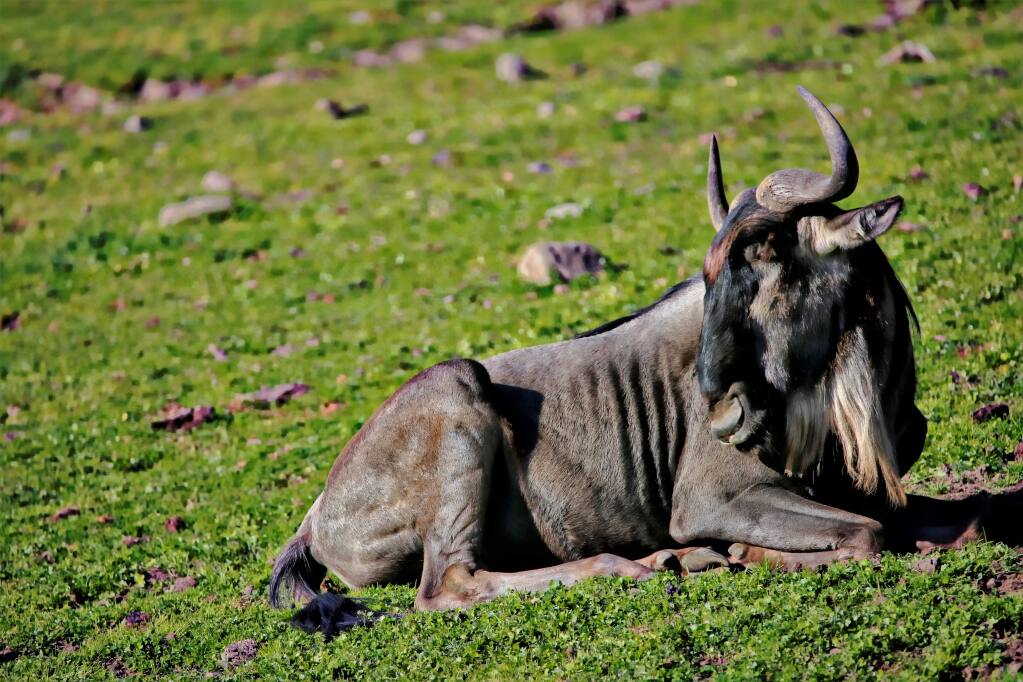 The night the Tubb's fire raged, Lang's own house, a half-mile away on Porter Creek Road, burned to the ground and 12 employees also lost theirs. Despite this, Safari West reopened on Nov. 20, less than six weeks after the blaze. Lang said he and his wife, Nancy Lang, are dedicated to letting the past stay there.
"Nancy and I, very early on after the fire, made up our minds and said, 'You can't bemoan the fire and live in yesterday,'" said Lang. "It's really amazing that a year has gone by."
The planned 25-year anniversary celebration will include the "Serengeti Bus Trek," on one of their new buses, where guests will be taken through lower grounds of the preserve to visit many enclosures explored on classic tours.
Guests will encounter the likes of giraffes, cheetahs, monkeys and more wildlife, as well as a presentation of Safari West's history, with drinks, games and contests. During the African-style entertainment, storytelling will begin, and a birthday barbecue will follow.
"I want this to be a party that's remembered," said Lang. "No finger food and string quartets. We're going to rock out."
While Safari West has healed remarkably well from the fires, Lang said he and his staff still have plenty of rebuilding to do on their personal homes. He said their efforts have been greatly helped by a GoFundMe page created to help support him in the wake of the fires.
After seeing that the fund had been created, Lang and his wife contacted the poster, Mate Varga, and asked for it to be expanded to include funds for the park's employees. Within a week, they were able to distribute checks to each affected employee as a result of the donations.
"When you've lost everything, including your wallet," said Lang, "it's nice to be able to go to a store, buy clothing and get started again."
Officially founded in 1989, Safari West was initially a private ranch focusing on breeding and species propagation. It gained membership in the Association of Zoos and Aquariums by 1992 and added children's tours soon after. They opened to the public in 1993.
Supporters have been a key part of the preserve's growth and recovery: when it reopened late last year, guests came flooding back without hesitation. Lang feels very indebted to the immense support they've received.
"We've now had guests return who were here the night of the fire," said Lang, "which is pretty neat, hearing what they have to say, what their reaction was."
The coming celebration Sunday, October 7, from 10 a.m. to 2 p.m. is open to the public. Tickets for children are $25 and adults, $50, and include a tour, activities and a barbecue lunch. Advance reservations are required, by emailing reservations@safariwest.com, or calling 707-566-3667. You can also book online here.