Artist Bud Snow's mural brings Juilliard Park fountain to life
A bold and brightly colored mandala is taking shape in the shallow bed of an abandoned fountain at Santa Rosa's Juilliard Park, part of a public arts program intended to engage and connect citizens as they move through the downtown on foot or by bike.
The large, circular painting features concentric rings of abstract, mythological-looking creatures muralist Bud Snow thinks of as contemporary versions of prehistoric, or perhaps, evolutionary beasts. They include huge scarabs from which snakes appear to be making an exit and footed fish that might have crawled out of a primordial soup.
"I'm interested in urban cave painting - discussing community, spirituality, friendship, joy, love - through simplified, abstracted forms but recognizable forms," the Oakland artist said.
Some may recognize Snow's work from a handful of murals and installations visible around town in recent years, including temporary murals in the former Conklin Bros. building, remodeled and reopened last spring as the Sonoma County Art Museum at Seventh and B streets. Anyone who has driven Highway 12 likely will have spotted a black-and-white scene of serpents and other sea creatures that appeared three years back on the exterior wall of an old granary southwest of the highway interchange.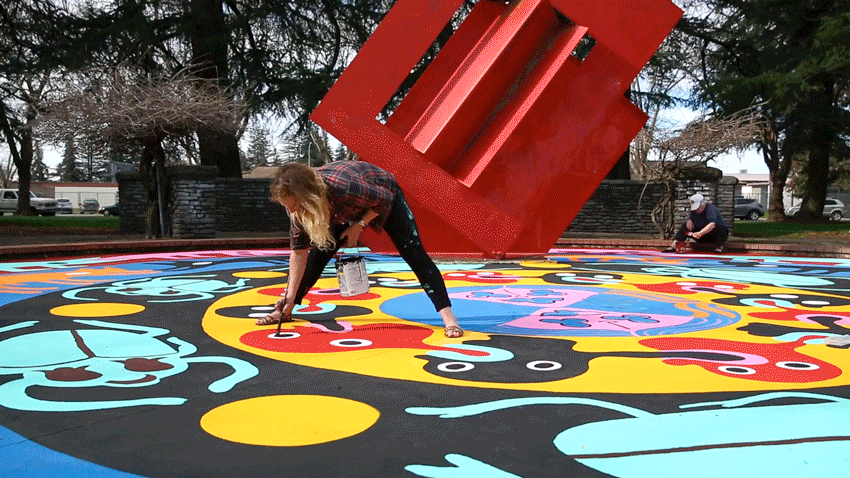 Santa Rosa Arts Coordinator Tara Thompson already was a fan when Snow was selected to receive one of four $5,000 grants distributed last year for the city's Downtown Connect project. The project was designed to create small, pedestrian- level artworks that encourage people to circulate on foot among downtown districts like Old Courthouse Square, Railroad Square and Burbank Gardens, among others.
The program is financed through development fees charged for new construction and renovation.
"I think her work is just playful and colorful, and it invites people to interact in a lot of different ways," Thompson said of Snow.
There was a lot of that going on this week when Snow, whose real name is Julia Davis, started working on the 20-by-20-foot mural near a large red abstract sculpture at the edge of Juilliard Park nearest South A Street.
Friends and strangers alike joined in to paint parts of the design, including fellow artist and admirer Luann Udell, whose gallery is nearby.
"To me, it looks like Inuit images, but it doesn't infringe on the Inuit culture," Udell said as she used a broad brush to add a second coat of red background to a part of the mandala. "It's got the same power and simplicity, but it's also so much fun."
"I call it neo-primalism," said Snow, "which is a term that I kind of came up with, I think. … I love things that are contemporary and old at the same time."
Snow will follow up with two small pieces near the Juilliard Park bridge, as well as a large mural on the back wall of the Roxy Stadium 14 movie theater.
"I want people to come picnic here, hang out here, do yoga here, dance on it, run on it, skateboard on it," Snow said of the mandala project.
"I want it to be used."
You can reach Staff Writer Mary Callahan at 521-5249 or mary.callahan@pressdemocrat.com. On Twitter @MaryCallahanB.