Community vows to replant after beloved tree cut down in Sonoma
A tree has fallen in Sonoma ‒ and the sound is reverberating throughout the community.
In the early morning hours of April 25, Sonoma's iconic little roadside tree, dubbed "Arnold the Tree" by locals who drive past it on Arnold Drive, was destroyed by an unknown vandal equipped with what locals believe was a hand saw.
In recent years the tree has been embellished with seasonal-appropriate crafts and other baubles ‒ with Halloween, Christmas and Easter-themed decorations festively displayed for the enjoyment of passing drivers.
No one seems to know who cut the tree or why Arnold was targeted, but local social media pages have been rife with the news since the first photos of Arnold's destruction were posted on Sunday.
Gary Gudmundson lives nearby, just off Arnold Drive, and he told the Index-Tribune that it is he who has been quietly decorating the tree since 2015.
"I was retired and had some time on my hands and I thought the decorations might bring a smile to people's faces as they drove by," he said.
The small, slightly bent pine tree rose to local fame when it was credited with helping lift Sonoma's spirits after the October 2017 wildfires.
Since then, Gudmundson and others have been decorating the tree periodically throughout the years, for holidays ranging from Mother's Day to Halloween to Easter and everything in between.
"If people see me out there decorating it, they honk, smile, wave ‒ some people have even pulled over to give me a hug," he said. "To be honest, I can't quite believe the attention it has gotten."
Oz Robledo created the Arnold the Tree Facebook page in early 2018 and the page has attracted more than 1,500 followers over the past three years.
"That little tree made me smile every time I drove by it," said Robledo. "I checked around and no one had done it yet so I created the page as a place for the community to chat about Arnold and appreciate it."
He shared a photo of the felled tree on April 25 and the post had more than 240 sorrowful and angry comments within the first 24 hours.
Jane Schneider is the business manager of La Chertosa vineyards, which owns the property that runs alongside where Arnold was growing. She said that she believes Arnold's "murder was premeditated." Having examined the tree up close, she noted that three of its branches were sawed off first to allow an axe to be used on the trunk. The branches were lying next to him in the ditch.
"Whoever killed Arnold brought both a saw and an axe to complete the act. It's really very creepy," she said.
She noted that the vineyard has been "secretly managing and nurturing the healthy growth of Arnold with careful pruning and weed trimming" for years.
"When we installed the signs for Le Gemelle Vineyard, we even selected their location as not to overshadow Arnold," she said. "We loved the little bugger and are very upset at this horrible act."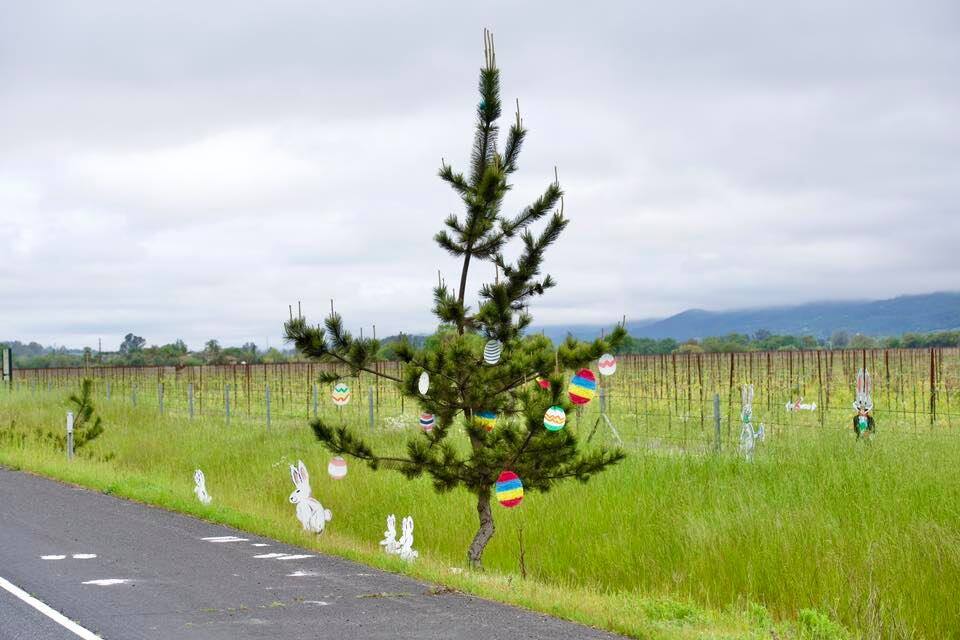 The Sonoma Local Facebook page has launched a fundraiser to cover the costs of the $300 permit needed to replace Arnold. Sonoma Mission Gardens has offered to donate a replacement tree. Any extra money raised will go toward decorations and maintenance. Donations are being accepted via Venmo to @SonomaValleyLocal.
Sonoma Valley Rotary members have also pledged to get involved in the replacement effort, as they would like a new tree like Arnold to be the first tree among the 75 that the club wants to plant in honor of its 75th anniversary this year.
Arnold's remains are located on a Caltrans right-of-way on Arnold Drive between Watmaugh and Leveroni roads.
Schneider said that it is likely that "Arnold 2" will be given a safer place to live on the vineyard side of the fence, however, with access to the vineyard irrigation system. But she noted that in that location, the public would not be allowed inside the vineyard perimeter.
Contact Lorna at lorna.sheridan@sonomanews.com.