Drought losses mounting in Sonoma County agricultural sector
After farming squash, corn, melons, peppers and tomatoes by his father's side since childhood, Gabriel Castañeda is stepping out largely on his own this year.
With water in such short supply, his dad, Humberto, thought he might forgo raising summer fruits and vegetables this season and focus only on the 15 acres of wine grapes he grows near Fulton instead.
But Gabe Castañeda, who had helped his father build Humberto Castañeda Produce into Sonoma County's largest produce grower, wanted to see what he could do to keep the family's 40-year farming tradition alive — even if on a very reduced scale.
He committed to planting 17 acres this spring — a little under 10% of what he and his father usually grow on the land they lease west of Fulton. Family members helped plant the crop because they're going without seasonal workers and irrigating with a smaller share of the reclaimed water they buy from the city of Santa Rosa.
There won't be peppers, which are expensive to seed and would need to have been started before the Castañedas knew whether they would have enough water to nurture them to maturity. But there will be a crop to be harvested and distributed to groceries and markets around the county if he is smart about his water use, said the younger Castañeda, 27.
"It is what it is," he said. "All we've got to do is keep going."
This is a time for difficult choices for many in Sonoma County's nearly $1 billion agricultural industry — where people devoted to making things grow instead find they're having to let some things go this year.
Plants and animals require water, and with supplies around the region diminishing by the day, Sonoma County's 2,000-plus agricultural producers are all touched by intensifying drought.
Whether they're in the business of beef or milk, the grapes that create the region's distinctive wines, or the vegetables and flowers that turn up at farmers markets and grocery stores, most of the ranchers and growers behind the county's agricultural bounty are having to cut back this year and get by with less. Some just hope to survive.
"People are making really hard decisions," said Tawny Tesconi, executive director of the Sonoma County Farm Bureau. "Deciding whether to let that block of grapes go or whether to sell 50 cows — it's tough. There's a lot of tough decisions being made right now."
The past two years have brought paltry rainfall to Sonoma County — so little, the seasons combined are equal to about one normal season of 32 inches or so. The dearth of water affects everyone differently, depending on what they grow, how it's watered and where their water comes from.
But producers are unified in the scramble to adapt, by turning to different water sources or curtailing their operations to make do with what they have, often at significant loss.
More woes for grape growers
After a disastrous grape harvest in 2020, due primarily to smoke damage from massive wildfires, further losses are likely this year. Many growers are running short on stored water or were recently prohibited from using the Russian River as a source for irrigation and are abandoning some vines, dropping the fruit early or even cutting back the canes.
Grape growers are seeing drought impacts, including undeveloped clusters and increased disease pressure, and generally are anticipating a lighter crop, said Karissa Kruse, president of Sonoma County Winegrowers.
"They will manage their crop to maintain quality over quantity," Sonoma County Agricultural Commissioner Andrew Smith said.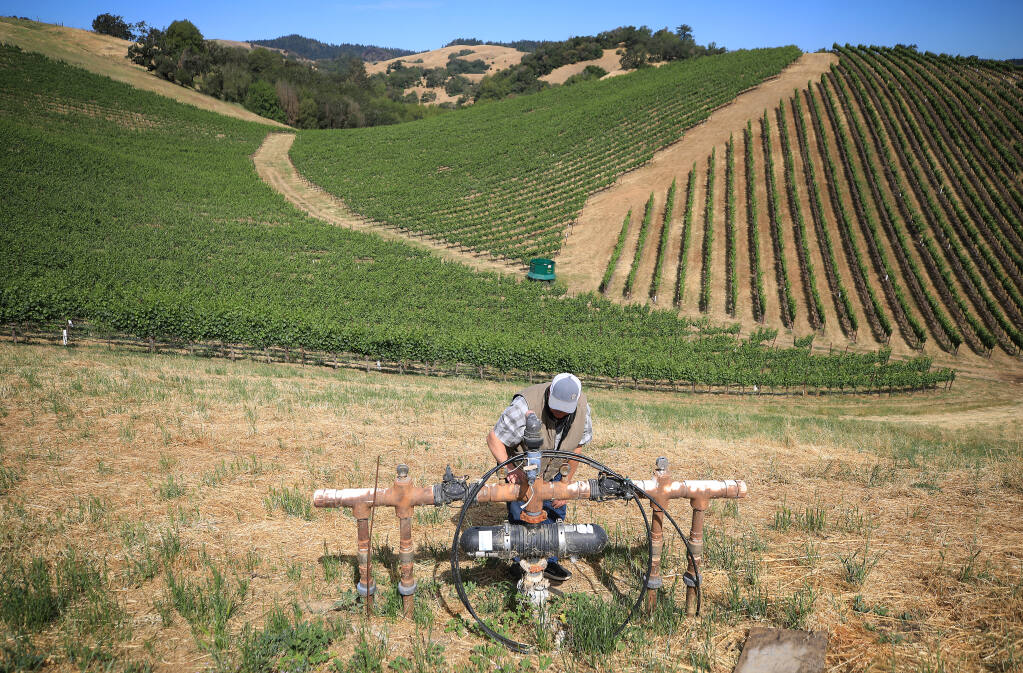 In general, established vines, as well as fruit trees and orchards, are likely to fare better than annual crops, their roots finding what little moisture may be in the soil more readily than annuals, boosting their chances of survival, Smith said.
But the commissioner's office already has documented sizable losses in forage, feed and grain crops, much of it grown to feed livestock on the same ranch as the animals for which they provide nutrition.
Based on an ongoing survey maintained by the county, field, forage and silage crop losses already have reached the 70%-to-85% range — enough to have a clear and direct impact on the amount of livestock kept locally.
Dairies in for major blow
Ranchers have been culling their herds as a result.