For more than three years, Grace Davis lived on Schurman Drive in north Santa Rosa.
She lived alone. No pets, no kids. She spent most of her time in Steele Lane Park, regardless of the weather, making conversation with friends and strangers alike.
She seemed to know everyone in the tight-knit neighborhood. The neighbor who lived just behind her. The couple across Schurman Drive. The woman on Steele Lane whose home backs up to the park. The man who walks his dog in the park.
Neighbors, who ultimately became friends, described 58-year-old Grace Davis as friendly, educated and positive. A true source of support.
One called her "Amazing Grace."
So when, on the morning of April 5, neighbors saw no sign of Grace, their worry was immediate.
A woman who had become a key piece of this neighborhood had simply disappeared.
Tracy Dorrance, Grace's neighbor across the street, called Santa Rosa police.
The only sign that Grace Davis had lived in this neighborhood for more than three years was a nearly perfect rectangle of dirt, the spot where the grass could not grow under her well-worn 6-person tent in Steele Lane Park.
It was the latest in a series of tents she called home for those three years as she forged relationships with her neighbors, kept the park safe for them, and occasionally turned to them for help when the weather got too severe.
The fact that a bare spot in the park is all that's left of Grace's presence tells us a lot about our community's relationship with homelessness, an increasingly intractable problem compounded by a scarcity of affordable housing, deepening mental health issues and, in many cases, drug and alcohol abuse.
Grace is one of the approximately 2,800 experiencing homelessness in Sonoma County, where chronic homelessness has spiked 43% since 2020. It would be easy to see her as a statistic.
But how many other homeless women have lived for three years in the same city park?
How many have defended that park and kept drug use and criminal activity at bay?
How many were on a first-name basis with their neighbors, so much so that those same neighbors would take her in when the weather got bad and allow her to bathe and do laundry in their homes?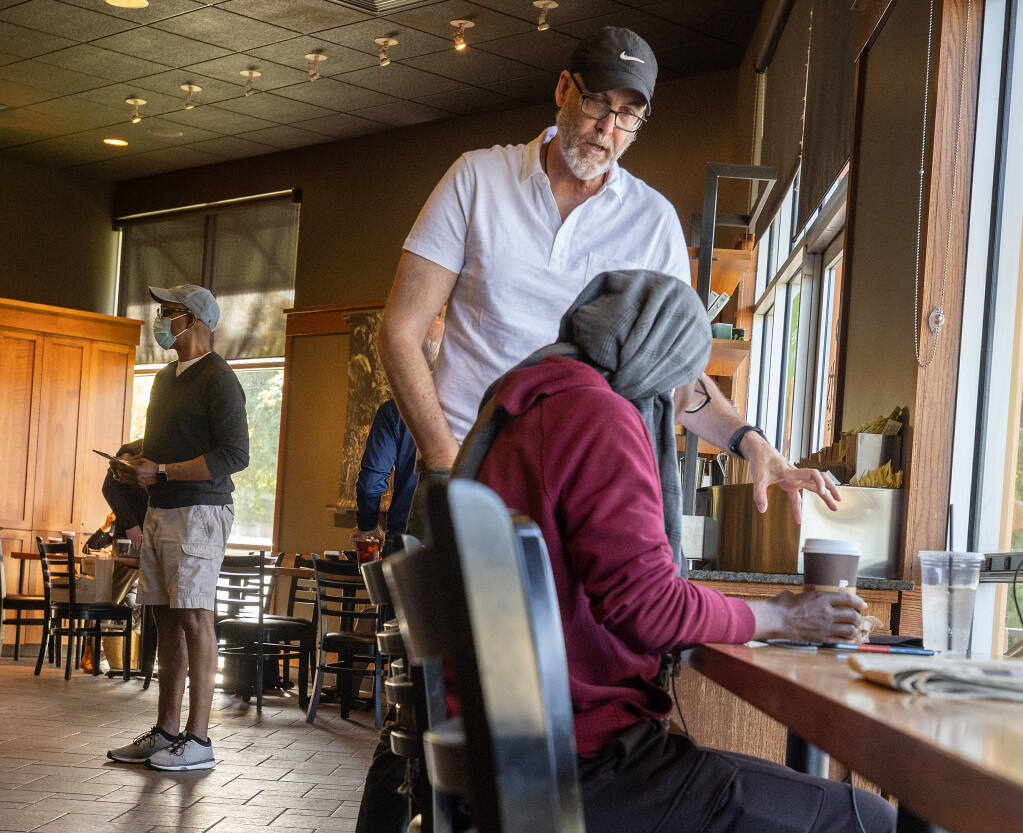 And how many prompted worried calls and emails when they suddenly one day disappeared?
To Grace's neighbors around Steele Lane Park, she was not a problem, but a blessing. In that sense, she is unique. An outlier. An exception.
But in a twist of irony, our community's attempt to address homelessness writ large may have caused Grace to lose the place she's called home for three years.
In March, Sonoma County established a controversial $3 million, 87-tent outdoor homeless shelter just a short walk from Steele Lane Park.
As officials worked to be good neighbors and calm neighborhood fears over the shelter, Grace's friends say, she became collateral damage in the well-intentioned efforts to minimize the operation's impact on the area.
Even as officials expressed heartbreak over Grace's situation, they acknowledged that government policies apply to the many, not the few. If they let Grace stay in the park they would have to let everybody stay in the park.
There can be no exceptions for outliers.
Finding Grace
I first learned of Grace and her disappearance the day she was evicted. A friend who lives in the area texted me and was concerned.
It didn't take me long to find her. After a few inquiries, I was told she's a regular at Peet's Coffee on Mendocino Avenue.
There, I saw a woman wearing an off-white fleece pullover, black sweatpants and Ugg boots engaged in friendly conversation with a Santa Rosa Junior College police officer.
Then a Peet's employee, clearly familiar with her, called out, "Grace, your sandwich is ready."
The coffee shop is just a short walk from the park where Grace lived in a neighborhood of mostly single-story homes that feels far quieter than the busy streets that surround it suggest.