Flood fears rise as drenching rains and storms on tap threaten Sonoma County and North Coast
Drenching rain and powerful winds lashed the North Coast as the leading edge of a potent storm barreled into the region and across much of Northern and Central California on Wednesday, submerging roads, felling trees and cutting power to thousands of people in the area before the day was out.
The much-dreaded storm — a moisture-laden atmospheric river powered by steeply dropping pressure known as a "bomb cyclone" — impacted travel and activity across Sonoma County and beyond, as drought-weakened trees fell across roads, particularly along Highway 1, and runoff pooled on ground saturated from earlier rains.
Late Wednesday, county officials issued an evacuation warning for low-lying areas along the Russian River stretching from west of Healdsburg to Jenner on the coast.
Several schools in west Sonoma County were to be closed Thursday due to road closures and power failures, including West Sonoma County Union High School District, Fort Ross Elementary, Guerneville School, Montgomery Elementary, Pathways Charter and Horicon School in Annapolis.
Road hazards proliferated as the skies darkened Wednesday and the deluge intensified, sending public safety personnel armed with safety cones and chain saws out into the streets.
PG&E late Wednesday reported nearly 20,000 customers without power in the North Bay.
But the most severe damage may still lie ahead, in the path of the rising Russian River, which was forecast to flood into next week, reaching nearly eight feet above flood stage in Guerneville by Monday morning. At almost 40 feet, the overflow would be enough to cause major damage to local resorts and other businesses only recently recovered from flood losses incurred in February 2019, when the river crested at 45.4 feet.
The county's warning late Wednesday affected several thousand people along the lower river, including the towns of Rio Nido, Guerneville and Monte Rio. Authorities urged them to be prepared to evacuate or leave immediately.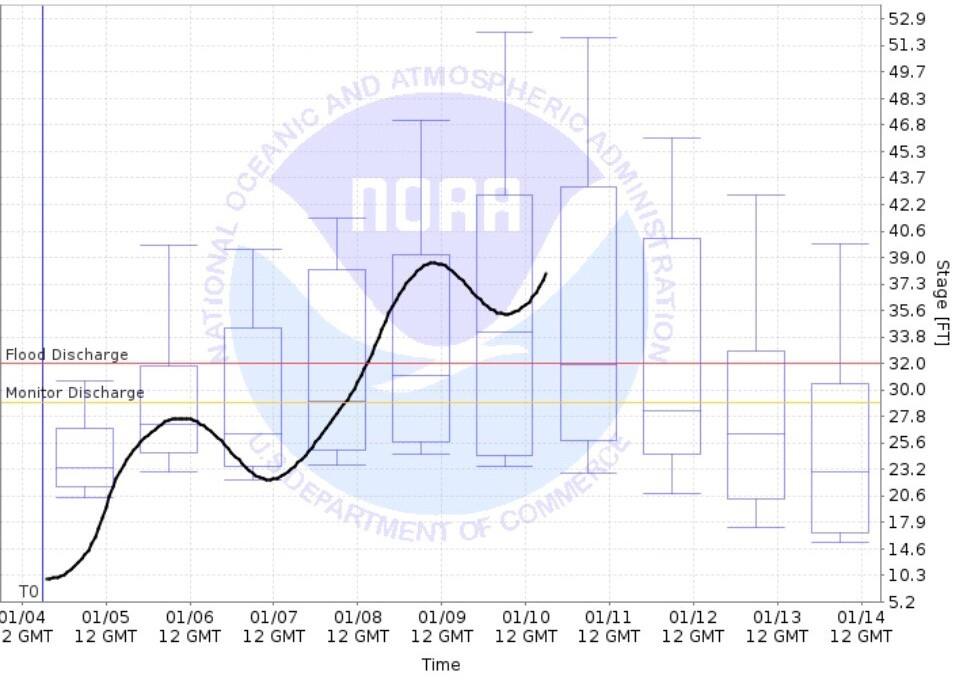 Though not a formal evacuation order, which would come from the Sheriff's Office, the notice informs those nearest the river's edge that they might need to seek higher ground with little notice.
"It's not just this (storm) event, said Sonoma County Communications Manager Paul Gullixson. "It's the storms that are stacked up behind this one that will pack a wallop. We're looking at four storms right now."
The county has set up an address lookup tool for people to use to see if they are in the threat zone. They are urged to pack a go-bag with medications, important paperwork and other necessary items and to monitor local media and official alerts.
An evacuation center has been set up in the Kraft Building at the Sonoma County Fairgrounds, with check-in at 921 Brookwood Ave. in Santa Rosa.
County personnel worked throughout the day with nonprofit partners including West County Community and others to assist unhoused people and others in harm's way in places like Guerneville and Sebastopol who need help moving RVs and trailers to higher ground.
"Maybe they're in a formal trailer park," Supervisor Lynda Hopkins said at midday Wednesday, several hours before torrential rains began. "Maybe they're on a friend's property. Maybe they're on the side of the road. Now is our primary window. It's today."
The latest storm is the third in a series of atmospheric rivers to arrive in eight day's time, jolting a drought-parched region and thrusting residents into sudden worry over flooding and mudslides — a reflection of what public officials say are increasing extremes in weather resulting from global warming.
At least four more rain systems expected to dump additional rain on the region, with forecasts calling for 10 to 15 inches across most of Sonoma County over the next week.
Gov. Gavin Newsom proclaimed a statewide disaster on Wednesday to facilitate delivery of resources and equipment to storm-impacted areas, while locally fire departments and public agencies have staffed up and coordinated on planning to meet the storm.
While highlighting the strength of Wednesday's storm, which was predicted to dump up to 10 inches of rain at the highest elevations by late Thursday or early Friday, many local officials emphasized that the longer succession of rain systems concerns them more.
One flood-protection bonus after more than three years of drought: Storage in most California reservoirs has been pitifully low, including Lake Sonoma and Lake Mendocino.