Sonoma County exploring purchase of Guerneville's Johnson's Beach, listed at $3.7 million
Sonoma County is poised to take a stab at acquiring Johnson's Beach, an iconic riverfront property in the center of Guerneville that has been serving up fresh air, water recreation and lifetimes worth of memories for more than a century.
Listed last week by owners Dan Poirier and Nick Moore for $3.7 million, the 11-acre property has reportedly drawn the interest of a number of potential buyers, in addition to the county, which already owns six public beaches on the Russian River.
But Johnson's, with its location and long-term legacy, would be a particular coup, bringing opportunities for expanded public river access, as well as concessions and other economic benefits to local businesses, said Board of Supervisors Chair Lynda Hopkins, whose district includes the area.
"Johnson's Beach is really the heart of Guerneville. It's this huge, beautiful beach a stone's throw from all the restaurants and businesses, and it's a historic property — the legacy of Clare Harris and his family, who stewarded it for decades," Hopkins said, referring to the family who ran the place for nearly 50 years.
The beach, located just two blocks off Main Street, is a Russian River landmark that has offered a refreshing respite to locals and lured weary Bay Area urbanites to the forested river corridor for more than a century.
Much of that time, the beach was under the management of Clare Harris, 101, who bought the property with his brother, Herbert, in 1967 and remained the face of the operation when he and his brother's six daughters later owned it together.
The ensuing decades brought new generations to frolic in the river but little change to Johnson's Beach, where $3 burgers remained a staple and standards from the 1930s and '40 wafted from the snack shack speakers across the sand.
Harris' wanted the place to stay the same and found kinship in the couple from San Francisco who bought it in March 2015, pledging to maintain its spirit and sense of nostalgia amid needed upgrades and hints of modernization.
Moore and Poirier had been visiting with friends on a holiday weekend about three years earlier when Moore told Harris of his longtime fondness for the venue and left his card, saying, "I love this place, and if you ever want to sell, would you call me?"
Two years later, Harris did, and within a year, a deal was struck.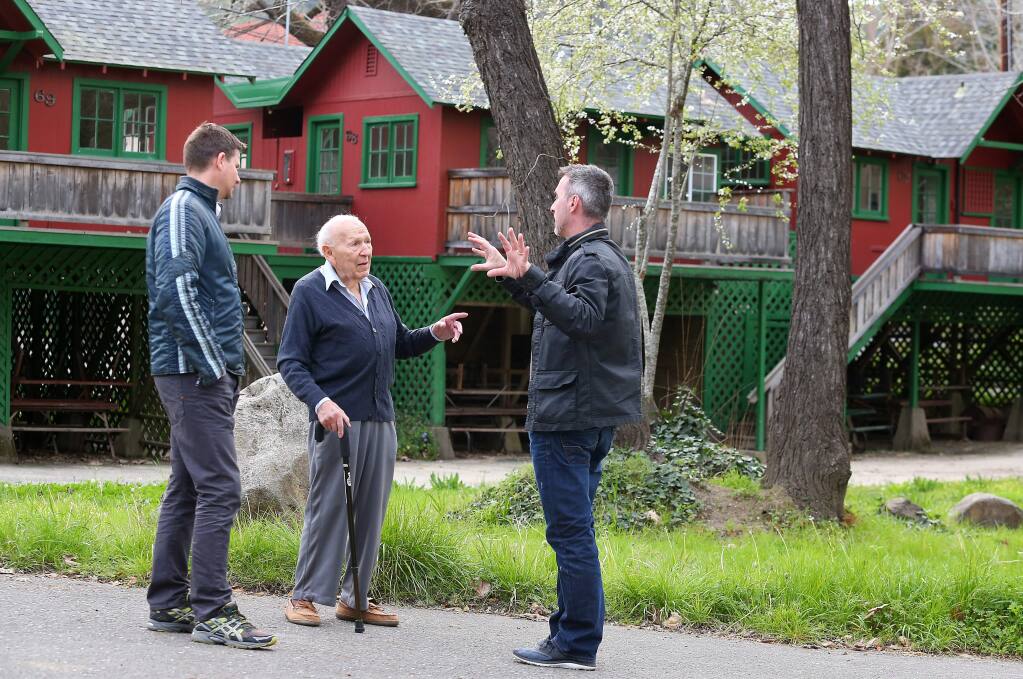 Hopkins on Wednesday described a "whirlwind" of discussions and community outreach since she toured the property Friday afternoon with several other county officials a few days after it went on the market. Also in attendance were Regional Parks Director Bert Whitaker; Misti Arias, general manager of the county Agricultural Preservation and Open Space District; and Dave Kiff, interim executive director of the Community Development Commission. Kiff and Whitaker declined to comment.
After a quick huddle following the walk-through, Hopkins raced to add negotiations as a last-minute item on the board's Tuesday closed-session agenda to discuss a potential bid — a frantic effort made necessary by an Oct. 4 deadline for offers.
"It's an amazing resource that's been really important to the community for a long time," Arias said. "We don't want to miss the chance."
But the county is not the only party carefully considering the property. Among the others is restaurateur and innkeeper Crista Luedtke, whose investments in town over a little more than a decade have been part of its renewal.
Luedtke said Wednesday she was interested in the beach property — which includes 10 vintage cabins from the 1920s, a four-bedroom, two-bathroom lodge, and a 38-tent campground — back in 2015, when "the boys," Moore and Poirier, bought it from Harris and his family.
She said her primary interest now is ensuring that the beach retains its charm and spirit.
"It's such a magical place, and it's such the heartbeat of this town," Luedtke said.
Now that the county has made its interest public, she's also concerned about multiple government agencies running a complex business and doing it right — particularly after Hopkins in a Facebook post raised the possibility of using the cabins for work force housing or homeless services.
"To me, that is not what Johnson's legacy is about," Luedtke said. "Johnson's legacy does amazing things not only for tourism but for the locals. When you go and you get a soft serve and a burger, you're transported back to the '50s. That's what it was meant to be."