Thursday storm updates: Will your school district be open Friday? Check here
After a pounding rain and windstorm across Sonoma County that unleashed havoc and left at least one dead Wednesday, Russian River communities awoke Thursday to a mess of downed trees, power failures and blocked roads.
Reporters Colin Atagi (@colin_atagi), Alana Minkler (@alana_minkler), Andrew Graham (@AndrewGraham88) and Martin Espinoza (@pressreno) are covering the storm and its fallout. Send them news tips to colin.atagi@pressdemocrat.com, alana.minkler@pressdemocrat.com, andrew.graham@pressdemocrat.com, kathleen.coates@pressdemocrat.com and martin.espinoza@pressdemocrat.com. For photos, follow photojournalists Kent Porter on Twitter @kentphotos and Christopher Chung on Twitter @cchungphoto.
Here's what's happening today, during the second day of the storm.
7:45 p.m.: Montgomery Village area family's home saved from being struck by tree by alert neighbor
Jessica Gilleran said she and her husband heard a "bump" Wednesday night outside their Santa Rosa home, but they didn't know their neighbor's Douglas fir had fallen on their Grand fir tree during the strong wind and rain.
"Up until an hour ago, it could have fallen and taken out half our house and part of our neighbor's house," Gilleran said Thursday night.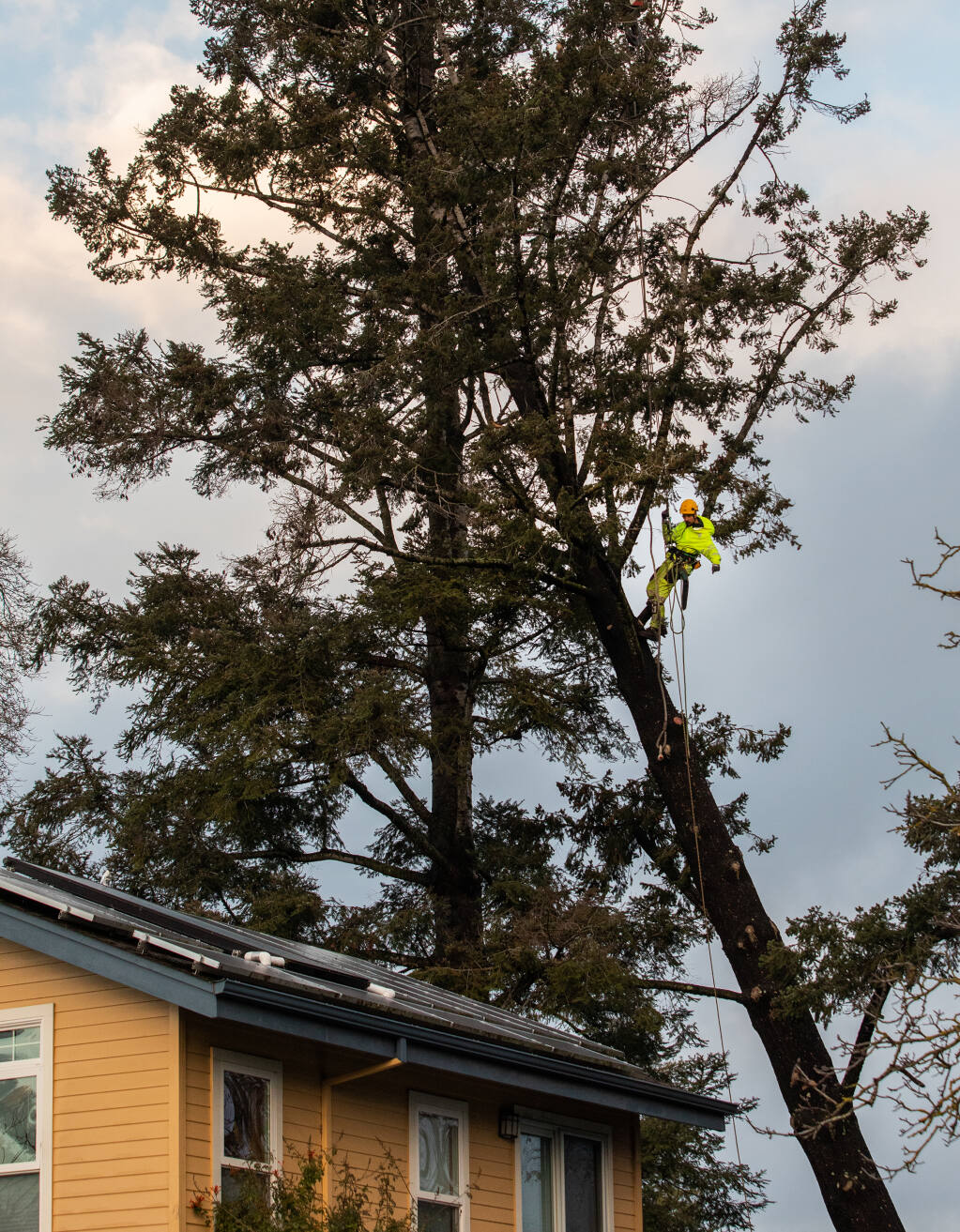 A neighbor who lives across the street alerted the couple, who rushed home from work and called a tree service, which analyzed the situation and called a crane service. They sent over a worker who went up on a crane and lassoed the leaning tree to the crane until the tree can safely be removed, she said.
"It was kind of a ballet," said Gilleran, a teacher. "My neighbor is so supportive and wanting to do the right thing. I hope her insurance covers this. I'm just grateful the trees didn't fall on the house and that nobody got hurt."
The Grand fir, like the house, probably has been there since the 1950s, she said.
7:20 p.m.: Will your school district be open Friday? Check here
On Wednesday, around a dozen school districts and individual schools in western Sonoma County were set to close Thursday because of this week's storm.
Now, the Sonoma County Office of Education is announcing closures by districts for Friday due to fallen trees, lack of electricity, flooding, or other concerns related to the storm.
According to the office, the following school districts will be closed Friday:
Fort Ross Elementary District;
Guerneville School District;
Harmony Union School District;
Horicon School District;
Kashia School District;
Montgomery Elementary District.
The office adds there are 40 public school districts in Sonoma County and parents should assume classes are proceeding as normal if their districts aren't listed above.
4:45 p.m.: Power restored to thousands of Sonoma County residents, but thousands more still in the dark
Thousands of Sonoma County residents saw their power restored by late afternoon Thursday. While 17,830 customers of electric utility PG&E were without power at midday, that number was down to 11,110 by 4:30 p.m.
In west county communities that were hit particularly hard, with many losing power Wednesday, Guerneville saw the most restoration. 1,184 customers remained in the dark down from more than 3,400 earlier in the day. Almost 1,300 in Sebastopol had power restored with 2,475 still without connection Thursday afternoon. 1,286 in Bodega Bay and 742 in Occidental are still awaiting restoration.
"In all these areas where restoration is delayed, it's largely due to access issues due to the intensity of the storm," said Megan McFarland, PG&E spokesperson. "It hit the North Coast the hardest."
Stay up to date on outages: pgealerts.alerts.pge.com/outagecenter.
4:15 p.m.: Not one, but two more storms heading to Sonoma County
The storm system that wreaked havoc across Sonoma County this week is on its way out but two more storm systems are still making their way to the area.
The first storm is expected to hit Sonoma County Friday evening, bringing up to 3 ¼ inches of rain through Sunday, according to the National Weather Service. Higher elevations could get up to 6½ inches of rain.
And not long after that wraps up, another system will arrive and may bring up to 4 inches of precipitation to lower elevations through Tuesday morning with up to 8 inches in the mountains.