David Law prepared a cup of noodles at a small food prep station Wednesday under a tent at Sonoma County's new outdoor emergency shelter.
The camp, situated on a parking lot of the county government center in northern Santa Rosa, was quiet as a heavy rain came down. Only a few residents passed through its sparse communal area — a white tent with three picnic tables, bicycle storage and a mobile shower station fronting nearly 90 tents atop wooden pallets.
A short distance from the food station, William Barhah stood on the wet asphalt by the camp's perimeter fence, taking a smoke break under an umbrella.
He had moved to the Joe Rodota Trail across town five days before the county cleared it. He'd heard people camped there would be offered a spot in the county's new sanctioned outdoor camp.
County officials cannot legally clear an encampment on public ground without offering those it would displace shelter elsewhere.
Barhah and Law are among the roughly 65 residents now at the new camp off Administration Drive, in front of the county's permitting and planning department.
"It's good," Barhah said. "It's a safe place, dry, (there's) food, on and on."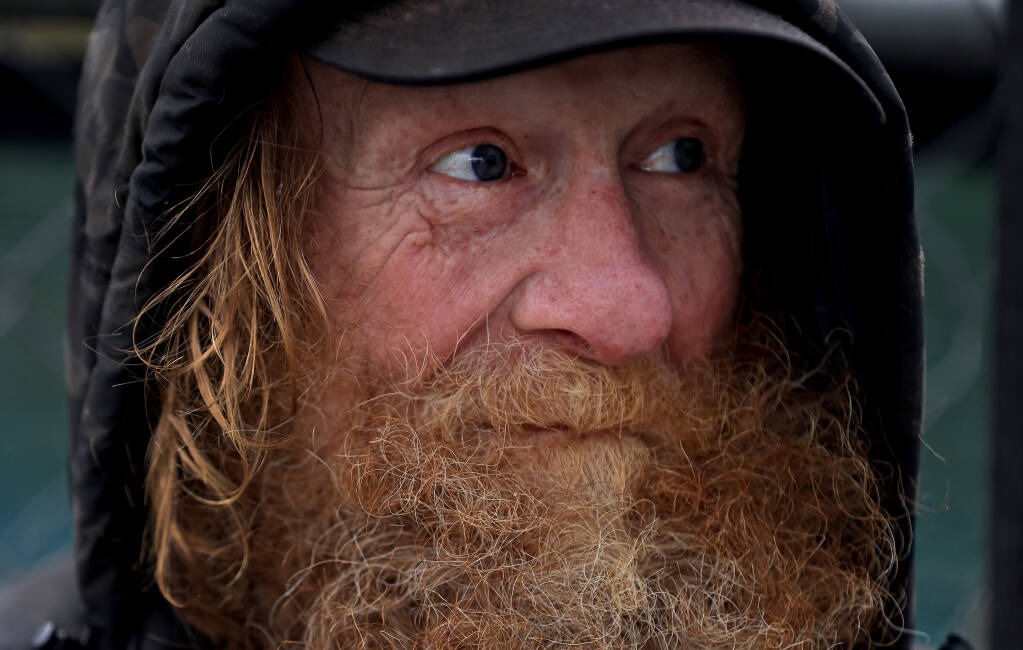 The first-of-its kind county shelter represents a way station of sorts for the latest group from the Joe Rodota Trail, long one of the biggest flash points in the county's deepening homelessness crisis.
For the county, the camp is meant to buy time and offer a secure place to shelter people while it looks to place them in more long-term housing.
But the camp is also a high-profile and costly bet — that county officials can place those individuals before the new camp's six-month operating window closes while at the same time curbing any new explosion of homelessness on the public trail in west Santa Rosa.
It has failed on that front before.
Three years ago, the county spent more than $12 million to clear the largest unsanctioned camp of nearly 300 people from the trail. The tiny home village it set up to take in many of those campers on county land off Highway 12 near Oakmont also was expected to operate only for several months.
That changed in the first months of the pandemic under an indefinite extension from the Board of Supervisors. It remains in operation today.
The tiny home village was one in a series of emergency moves authorized days before Christmas 2019, ahead of what would become a wave of unprecedented spending by local government on homelessness throughout the pandemic. For the county and Santa Rosa alone, that spending was up 550% over the two budget years prior to the pandemic.
Over a slightly longer period, since 2018, the county, in partnership with local cities, has spent more than $225 million in state, federal and local funds to combat homelessness. The spending helped open 420 interim beds and an additional 100 permanent supportive housing beds, according to county officials.
Resolution Declaring Shelter Crisis
"I don't know where all the millions of dollars have gone, but a lot of people on the street will say it hasn't come to help me," said Heather Jackson, co-founder of Sonoma County Acts of Kindness. That's a grassroots group that for years has provided meals, hygiene items and other support to trail residents.
As in other urban and suburban centers across California, homelessness is on the rise in Sonoma County, up 5% since 2020, to an estimated 2,893 homeless residents, according to the latest single-day count.
Meanwhile, the number of chronically homeless people — those who have been continuously homeless for one year or more and/or those who have become homeless on four or more occasions within the past three years — has shot up by 43%, to 725.
The county's new managed camp is taking in some of those chronically homeless people. It emerged as the favored response by the Board of Supervisors to an official county-declared "shelter crisis" on the trail, where the largest homeless camps have proliferated on and near the path for years.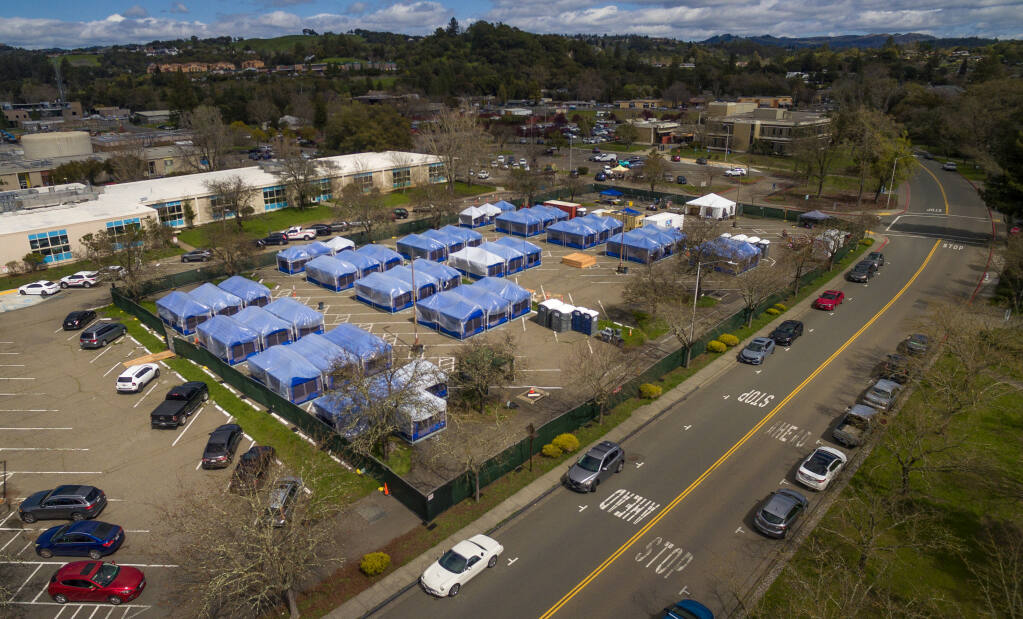 How will it be different?
The question hanging over the new outdoor shelter site stems much from that history: How will it be any different from past efforts?