Santa Rosa clears Industrial Drive homeless encampment
Jacob Grant gripped a cup of coffee as the sun came up Tuesday on Industrial Drive in northwest Santa Rosa. The 43-year-old, born in Alaska and raised in Napa County, had just finished folding his tent and he was trying to figure out where to go next.
Grant was one of roughly 50 people living on Industrial Drive, a commercial spur north of Piner Road that for months has been the spot of one of Santa Rosa's largest homeless encampments.
Just after 7 a.m., Grant was counting the minutes before Santa Rosa set about ordering him and his neighbors to find new places to pitch their tents. He chafed at the lack of options being offered to him, given his medical situation — he has suffered through cancer and hepatitis C. He was hoping for a roof, or short of that, a government-sanctioned campsite.
"I've done all their hoops," said Grant, a former horse trainer who has been homeless for six years. "I've done all their paperwork."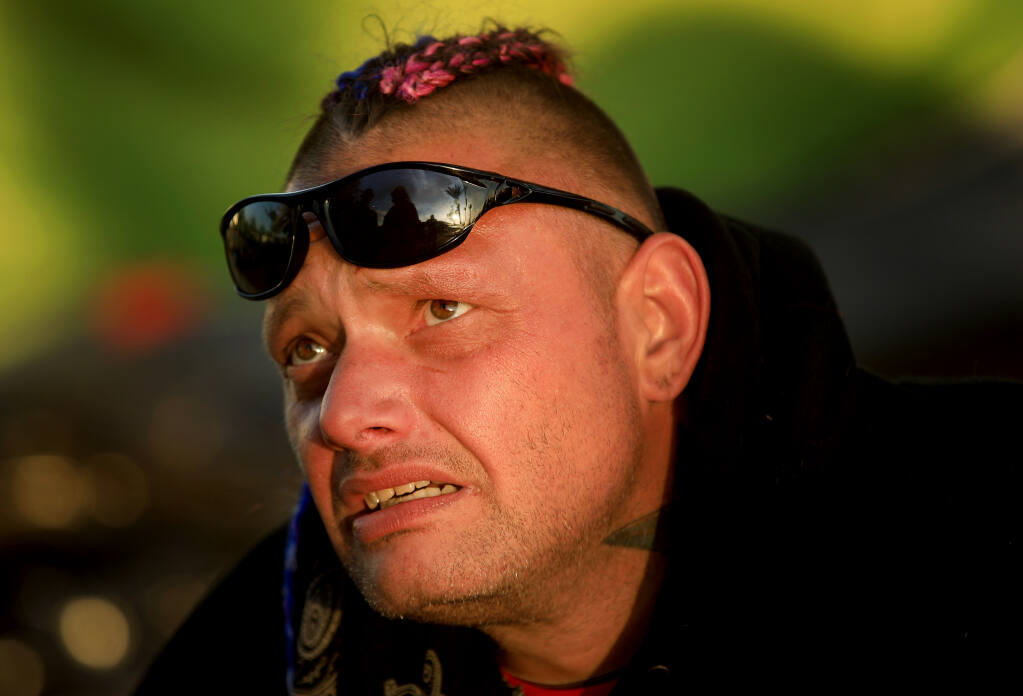 Volunteers fanned out amid the collection of RVs, cars, tents and other makeshift dwellings, prodding occupants including Grant to get a move on. The city had announced days earlier a plan to clear the site early Tuesday.
A city worker hauling a backhoe on a flatbed trailer arrived shortly after 7 a.m. and set about undoing the chains to free the piece of heavy machinery, to be used in gathering heaps of discarded or abandoned belongings and debris. About 120 yards of trash and debris had been gathered by Tuesday afternoon, according to the city.
The enforcement action came after two shelved attempts to clear the camp dating back to December, both of which were held up due to COVID-19 outbreaks. It was the second major sweep within the city in a week, after the county cleared about 15 people and up to 20 tents off a section of the Joe Rodota Trail running from Santa Rosa to Sebastopol. The 2.5-mile trail segment reopened to the public on Friday.
The moves signaled the start of what has become an all-too-familiar cycle in recent years: authorities displace dozens of campers, who either move in to shelters or regroup elsewhere in and around Santa Rosa as authorities begin an extensive cleanup. Though campers are offered shelter space or similar temporary quarters, they are not obligated to accept.
Encampments are a common sight in Santa Rosa, which has one of the highest per capita rates of homelessness among suburban communities in the nation, according to statistics kept by the federal government. Sonoma County's latest homeless count found up to 562 chronically homeless individuals in the city, where many major homeless service providers operate.
The Industrial Drive camp is in the district of Councilman Tom Schwedhelm, who drove by Tuesday once clearing efforts were underway to scope out the situation.
Schwedhelm, a retired Santa Rosa police chief, has been a leading figure in homeless outreach since he first joined the council in 2014. "Anytime you need a backhoe to help with the cleanup, that's an issue," he said.
Schwedhelm said Santa Rosa remains committed to bolstering services for homeless residents, including the temporary living space it can provide for more than 200 people at Samuel L. Jones Hall, the city shelter that is the largest of its kind in Sonoma County. He acknowledged that many displaced from unsanctioned camps do not take the city up on its offer of shelter space. Providing other options and requested help isn't always possible.
"We're working on it," Schwedhelm said, adding that the city and its unsheltered residents needed to "meet each other at the right place."
"We can't force anyone to accept services if they're not at a point in their life where they can accept that help," Schwedhelm said. It may take time, he added, but "I'm confident and hopeful that they will say yes and will allow us to help us help them."
Of the estimated 50 to 60 people living in the encampment, 31 sat down with outreach workers and drew up plans to transition out of the encampment, and 27 have accepted shelter placements, according to city data. Nineteen campers are set to stay at Sam Jones, with five going to individual living arrangements and three others with shelter placements pending.
No arrests were made and two vehicles were towed Tuesday, according to city staff. It was not immediately clear how many vehicles were towed from the encampment prior to Tuesday's enforcement action.