Sonoma County officials to cut pumping from Russian River by 20% amid deepening drought
Sonoma County supervisors are expected to offer their formal support Tuesday for a plan to pump 20% less water than normal from the Russian River for the remainder of the year, preserving dwindling supplies in local reservoirs but making less water available to more than 600,000 consumers in Sonoma and northern Marin counties.
The move means communities that rely partly or fully on Sonoma Water, the county agency that serves as the region's main wholesaler, will have to find ways to live with at least 20% less water than a year ago, depending how much worse the drought gets. The reduced diversion level also applies to Healdsburg and Camp Meeker, who take water under Sonoma Water water rights.
The cut would be the most significant single action to date by the county in response to a deepening drought after two straight years of extraordinarily low rainfall and record-low reservoirs for this time of year.
"This is kind of where the rubber meets the road," agency spokesman Brad Sherwood said.
The action is proposed as a condition for requesting authorization from the California State Water Resources Control Board to reduce river flows below the level usually required to support imperiled fish habitat, thus allowing more water to stay behind the dams at Lake Sonoma and Lake Mendocino.
It comes as conditions become increasingly dire around California, where Gov. Gavin Newsom on Monday extended an April 21 drought emergency proclamation for Sonoma and Mendocino counties to include 39 additional counties.
"It's difficult to overstate the seriousness of the need to have everyone in the Russian River watershed begin their conservation practices," Sonoma Water General Manager Grant Davis said Monday.
Instream flows in Russian River's main stem above the confluence with Dry Creek would be cut to as low as 25 cubic feet per second, while those below the creek, which carries water from Lake Sonoma to the agency's pumps, would be cut to 35 cubic feet per second — less than half the already meager spring flow on the lower river Monday. Water agency officials say the river would always have a "buffer" to ensure the river flow never drops below the allowed levels.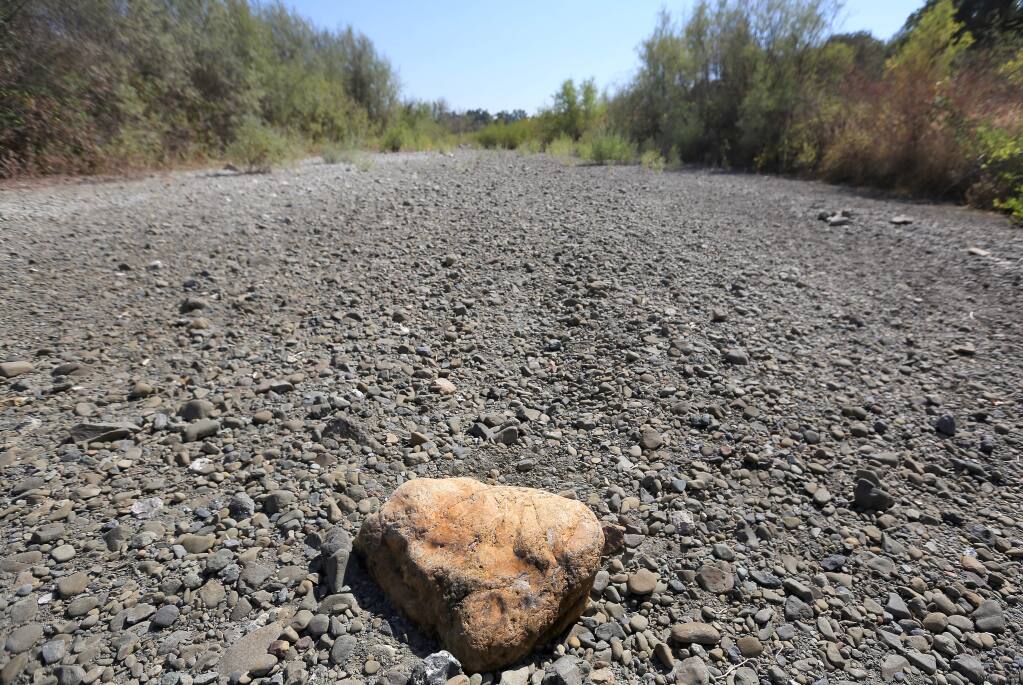 Davis' comment came during a drought summit convened Monday by Rep. Jared Huffman, D-San Rafael, who gathered stakeholders from around the Russian River region to discuss the worsening water shortage, its implications for different populations, as well as the varying needs.
In the river's headwaters, Mendocino County and its small water suppliers do not have the funding and staff common to larger urban entities to provide public outreach about the drought and how to use water efficiently, said Supervisor Glenn McGourty.
Some of those rural communities face severe shortages, and "there is a lot of anxiety here locally," McGourty said.
Isolated coastal communities also have limited supplies that could quickly be depleted, Huffman said.
Small water retailers on the upper Russian River are preparing consumers to reduce their water use to 55 gallons per person per day, said Elizabeth Salomone, general manager of the Russian River Flood Control and Water Conservation Improvement District, which supplies both municipal and agricultural users.
"In the upper Russian River watershed this year, we have some water suppliers that are reliant solely on surface water and will be challenged to make sure they have enough water for human health and safety," Salomone said.
Agricultural users also are feeling profound pressure, including grape growers who are seeing shorter shoots on their vines and more pronounced indications of disease and fruit failure after a year in which harvested tonnage already was down 40% due to wildfires, said Karissa Kruse, who represents about 1,800 growers as president of Sonoma County Winegrowers.
Dairy ranchers who are trucking water to dry lands with empty water ponds in south Sonoma County also are looking for assistance, said Tawny Tesconi, executive director of the Sonoma County Farm Bureau. One rancher has decided to sell off his 600 cows, she said.
With the climate crisis, expectations have to change from the old model, where rain and snow replenish reservoirs pretty close to every year, McGourty said.
"I have huge concerns going forward," he said.
You can reach Staff Writer Mary Callahan at 707-521-5249 or mary.callahan@pressdemocrat.com. On Twitter @MaryCallahanB.
Mary Callahan
Environment and Climate Change, The Press Democrat
I am in awe of the breathtaking nature here in Sonoma County and am so grateful to live in this spectacular region we call home. I am amazed, too, by the expertise in our community and by the commitment to protecting the land, its waterways, its wildlife and its residents. My goal is to improve understanding of the issues, to find hope and to help all of us navigate the future of our environment.