For Healdsburg native Skylaer Palacios, the times she put together boxes of toiletries for homeless people, volunteered at food pantries through her Trinity Baptist Church or coached the high school's Bulldogs cheerleading team were when she felt most connected to her community.
For much of her youth, she said, she felt like a "shadow community member" because of her Black, Latino and Native American roots.
"It's like, 'Oh, you're from here,' or, 'What are you doing here?' energy," Palacios said. "That feeling of being othered, it made me feel my voice at that time was not important."
Palacios is part of a wave of racially, ethnically and generationally (among other characteristics) diverse candidates who, after the November elections, were sworn into city council seats throughout Sonoma County.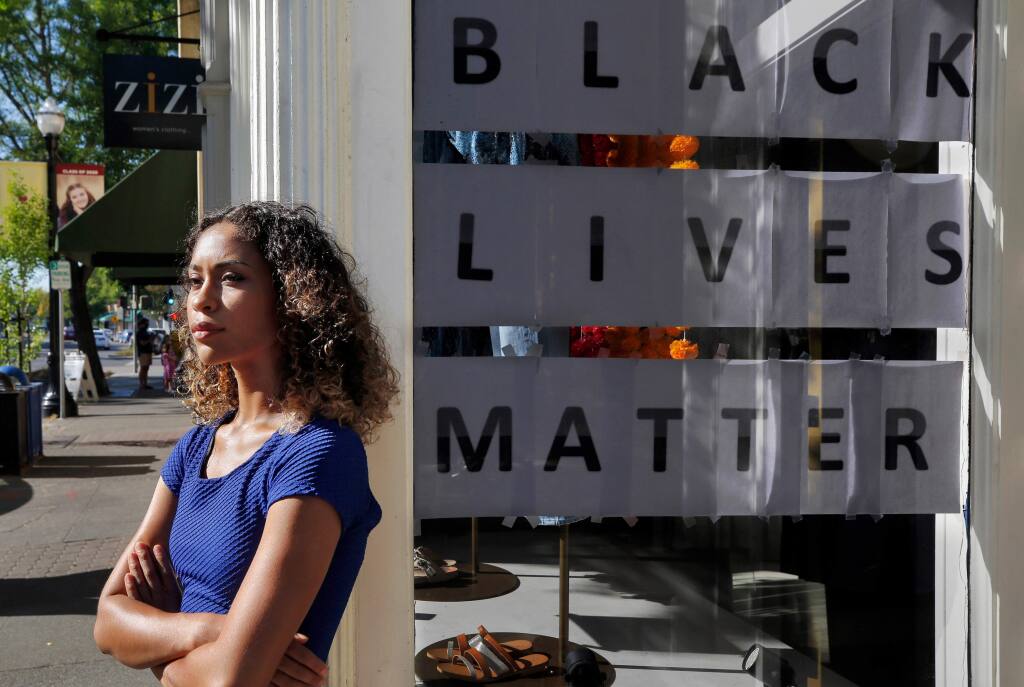 She and her fellow fledgling leaders are at the center of a shift in the local political landscape, which has historically been dominated by people who were mostly white, affluent and male.
Last year, Palacios was one of at least eight diverse candidates in Sonoma County who celebrated campaign victories. She decided to run after she emerged as a leading opposition voice to the way Healdsburg's then-Mayor Leah Gold handled public calls for police reform amid local and national protests after the May 2020 death of George Floyd.
Gold had dismissed demonstrators' calls for a formal discussion about the Healdsburg Police Department's use-of-force policies after the death of Floyd, a Black man killed by former Minneapolis police officer Derek Chauvin, who is serving a 22½-year prison sentence for Floyd's murder.
The subsequent public backlash over Gold's response prompted her to resign as mayor in June 2020.
Both Healdsburg's then-Vice Mayor Shaun McCaffery and Tony Geraldi, who at the time was the secretary and treasurer for Miss Sonoma County, reached out to Palacios and encouraged her to consider a run for public office soon after Gold's departure, Palacios said.
"If it wasn't for him, I'm not sure if I would have done it," Palacios said of Geraldi's support.
Geraldi stepped down from Miss Sonoma County on Wednesday, saying he was too busy to fulfill his roles.
Fundamental change and challenges
This political paradigm shift bookended a year shaped by the coronavirus pandemic and the societal reckoning that followed Floyd's death — events that not only highlighted centuries-old systemic barriers in this country, but also sparked conversations about how to eliminate those roadblocks for good.
While discussions about the need for more diverse local representation are not new to Sonoma County, concrete steps to achieve the goal are starting to take shape, with change makers targeting the hurdles that make public service harder to reach for underrepresented community leaders.
White residents are the largest racial demographic in Sonoma County, with Latinos making up the second biggest group at 27%, U.S. Census data showed. Asian residents accounted for nearly 5% the county, while Black residents made up 2%, according to the data.
Topping the list is a lack of money for political campaigns, followed by too few opportunities to gain much-needed experience through appointments to non-elected boards or commissions.
In addition, many of these new officeholders say they feel they are under more scrutiny than their peers, and are therefore more susceptible to becoming targets of hate speech.
In March, Rohnert Park Vice Mayor Jackie Elward, 41, who is Black and was raised in the Democratic Republic of the Congo, received a call from an anonymous person who called her racial slurs and told her to "go back to Africa." The caller also voiced displeasure with Elward's support for a fireworks ban in that city.
The first Black woman to serve on the Rohnert Park City Council, Elward was elected in November, along with fellow first-time officeholders Willy Linares, 36, and Gerard Giudice, 60.
Linares, who is of Guatemalan descent, was recently the victim of an act of vandalism that authorities say stems from his support for the fireworks ban.