Golis: A tale of two communities — one wealthy and one not
Two news stories last week told about the times in which we live. In the first, the federal government rushed to bail out uninsured depositors with money tied up in a failed Silicon Valley bank.
In the second story, it was reported that officials knew a Pajaro River levee near a low-income community in Monterey County could fail, but they didn't act to prevent the disaster that followed. This was not even the first time the levee was breached.
We are left with a tale of two communities a few miles apart — one whose name signifies wealth and privilege and the other, a community of now-displaced people.
As a country, we could help the 3,500 residents who lived along the Pajaro River and the customers of the Silicon Valley Bank, but first we need to believe that wealth alone shouldn't decide who wins and who loses.
It was New York Times business writer Andrew Ross Sorkin who first observed that some libertarians in the Silicon Valley favored less government until the moment arrived when their own money was at risk. "This all looks particularly egregious," wrote Sorkin, "after some of them spent the weekend begging for government help." To be an uninsured depositor at Silicon Valley Bank, you needed a deposit in excess of $250,000. All other depositors were already insured.
The reasons for letting the Pajaro River levee fail were plainly stated. Since the town was worth less money, the cost of repairing the levee didn't satisfy a cost-benefit analysis.
"It's a low-income area," a U.S. Corps of Engineers official told the Los Angeles Times. "It's largely farmworkers that live in the town of Pajaro. Therefore, you get basically Bay Area construction costs, but the value of property isn't all that high."
A Mississippi State University engineering professor told the Los Angeles Times that local, state and national governments have "a long track record of discrimination when it comes to levees."
The circumstances invite us to believe that if the community at risk was, say, Palo Alto, the outcome would have been different.
We can pretend to be surprised, but we're not. Despite our democratic pretensions, people with less money have less influence, too. People in more prosperous communities possess the time, resources and experience to make sure no one messes with them.
Californians grew up with the idea that equal opportunity waits on every street corner. Now they have to worry that income inequality is beginning to intrude on their dreamy assumptions about the Golden State.
The Public Policy Institute of California this month reported that California leads all but three other states in a dubious category — the divide between rich and poor.
Closer to home, the Redwood Empire Food Bank just published its 2022 Community Impact Report. In a county with low unemployment, what it tells us is that the working poor need help to survive here. Last year the Food Bank served $55.7 million worth of food to 117,000 people. (Full disclosure: I'm a former member of the board at the Food Bank.)
In pilot projects, governments at various levels are experimenting with what are called guaranteed income programs. In Sonoma County, three cities, county government and community groups are joined in a two-year, $5.4 million pilot program that will pay $500 a month to 305 low-income families with children under the age of 6.
Some will say this effort responds to the high cost of living in Sonoma County, a burden that causes many workers to look elsewhere. A chronic shortage of workers has become a feature of the local economy.
Others will say government has no business helping people out. They will say it's socialism.
"Banking is now officially a government-backed business," declared Andrew Ross Sorkin. "We have become a country of bailouts. We did it after the Sept. 11 attacks, in the wake of the financial crisis in 2008, during the pandemic — and now we are at it again. For those that say we should have lower taxes and shouldn't fund the government, how are these bailouts supposed to be financed?"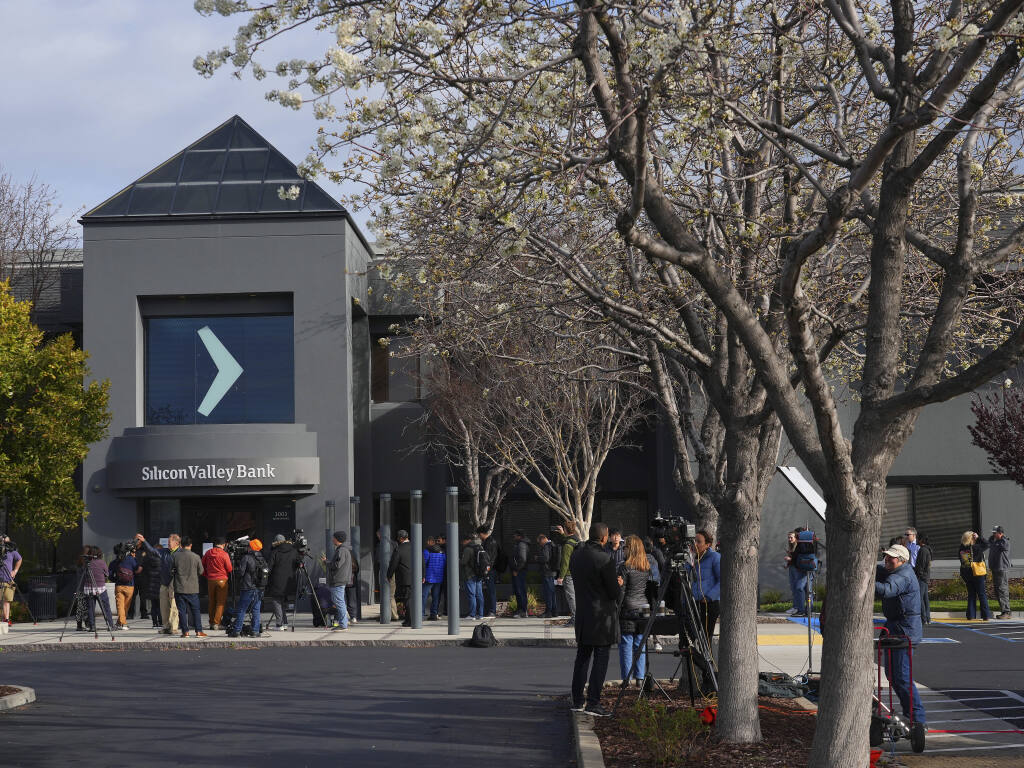 If it increases confidence in the banking system and prevents further damage to the economy, bailing out bank depositors becomes the right course of action. We don't need a run on other banks. Companies need to make their payrolls. Startup companies need to survive. The bank's customers weren't responsible for the bank's collapse.
Still, after so many financial meltdowns, it is time to get acquainted with reality. We remember why the bailouts of 2008 became necessary. We remember the Great Recession and too big to fail.
At the urging of the banking industry, stricter bank rules enacted after the 2008 crisis were watered down by legislation passed in 2018.
Yes, government can be guilty of overreach. But it's time to get over the pretense that government shouldn't make sure financial institutions play by rules designed to protect their customers and the public at-large.
It's not news that people seek less government until the moment arrives when they need government to come to their rescue. As we try to sort out the proper role of government, it would be pleasant to believe that money alone won't decide who gets help and who doesn't.
Pete Golis is a columnist for The Press Democrat. Email him at golispd@gmail.com.
You can send letters to the editor to letters@pressdemocrat.com.