Editor's note: A sneak preview of Santa Rosa cartoonist Brian Fies' expanded "A Fire Story" is at the bottom of this article. The full graphic novel will be published by Abrams ComicArts in March 2019.
"On Monday, my house disappeared."
So begins the story Brian Fies shared days after the Tubbs fire wiped out his neighborhood in Mark West Estates.
The cartoonist and his wife, Karen, woke to the smell of smoke in the early morning hours of Oct. 9, 2017. They rounded up pets, clothes and a few belongings in a scramble to evacuate. Fies said they expected to be gone for only a couple of days.
Hours later, he returned to find the family's house burned to the ground. Their home in the neighborhood near Santa Rosa was one of more than 6,400 residences destroyed by wildfires that raged across Northern California.
"You spend 10, 20 years in a house and it just seems permanent," Fies said. "You can't imagine it going away. And you really can't imagine it going away in three or four hours."
He channeled feelings of loss and despair into "A Fire Story," a poignant 18-page web comic he posted on his blog just days after the fires. The story immediately found a wide audience, reaching millions of readers and garnering praise from fellow fire survivors for its honesty.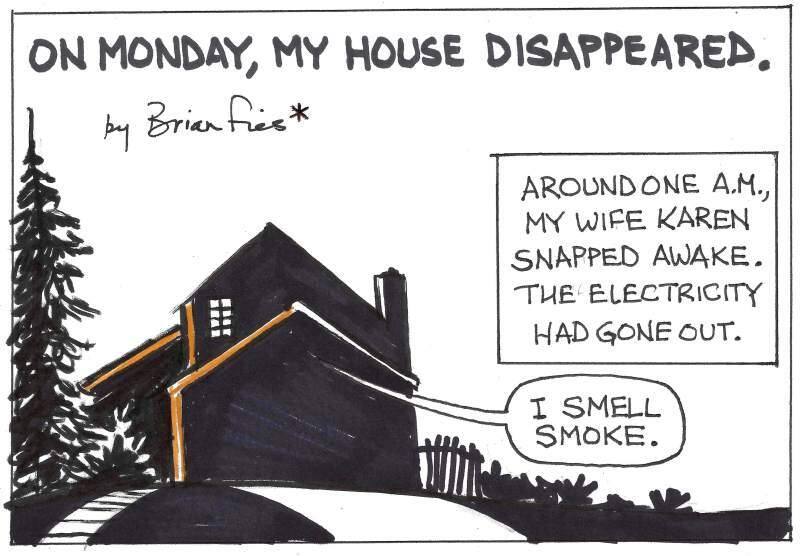 Fies continued working on his account of the firestorm and recovery long after the national news media had moved on to covering other disasters. "A Fire Story" will be released as a full-color graphic novel from Abrams ComicArts on March 5, 2019.
He was eager to weave in stories from fellow fire survivors, capturing the moments, both routine and profound, that formthe texture of their daily lives. Fies researched the ecology of Sonoma County, illustrating how a period of drought broken by heavier-than-normal rains had left the region unusually vulnerable to wildfire.
"The book goes a couple of months after the fire, and talks about the events spread through more time," he said. "I needed to expand the scope of [the story], so I wanted a book about how global climate change is making fires like this more common. It seemed very natural to also ask other people what had happened to them."
A writer and former newspaper reporter, Fies said he considers his work first-person journalism. Comics have the ability to "distill a situation to its essence," he said, focusing on the single idea or emotion the cartoonist wants to convey.
"I want it to be a book that, if you don't know anything about the Northern California fires, and you read this book, it would tell you everything you needed to know," said Fies.
The story does not turn away from raw or uncomfortable moments. In a short vignette called "A Day in the New Life," which can be viewed below, Fies illustrates the quiet sadness that follows loss as his wife, Karen, tries to comfort him. "A Fire Story" is also seasoned with moments of subtle humor and hope.
In the past year, the graphic memoir that Fies penned after the Tubbs fire has received regional and national attention.
In July, Fies was awarded the Inkpot Award at Comic-Con International 2018 in San Diego. In June, an animated version of "A Fire Story" produced by KQED won a Northern California Area regional Emmy. In April, The Press Democrat was awarded a first-place award in the features category by the California Newspaper Publishers Association for an Oct. 29 profile of Fies that included his first cartoon strip describing the night of the fires and the days immediately after.
Fies said the process of creating a story can be daunting - and therapeutic. He wrote "Mom's Cancer," a web comic and graphic novel published in 2006, about his mother's fight against metastatic lung cancer.
"My wife said the same thing with 'A Fire Story' that she said then: 'Oh it'll be good therapy for you,' '' Fies said. "She's right to a point. It's definitely me trying to control a situation that I have no control over. To try and process and understand what's sort of beyond understanding."
He and his wife, Karen, visit their old homesite regularly to walk the dogs, visit with neighbors and check on the construction process. They are rebuilding their home, a decision he said was made quickly.
Despite the hardship of loss and challenges of rebuilding, Fies is quick to point out that his family's situation could be far worse.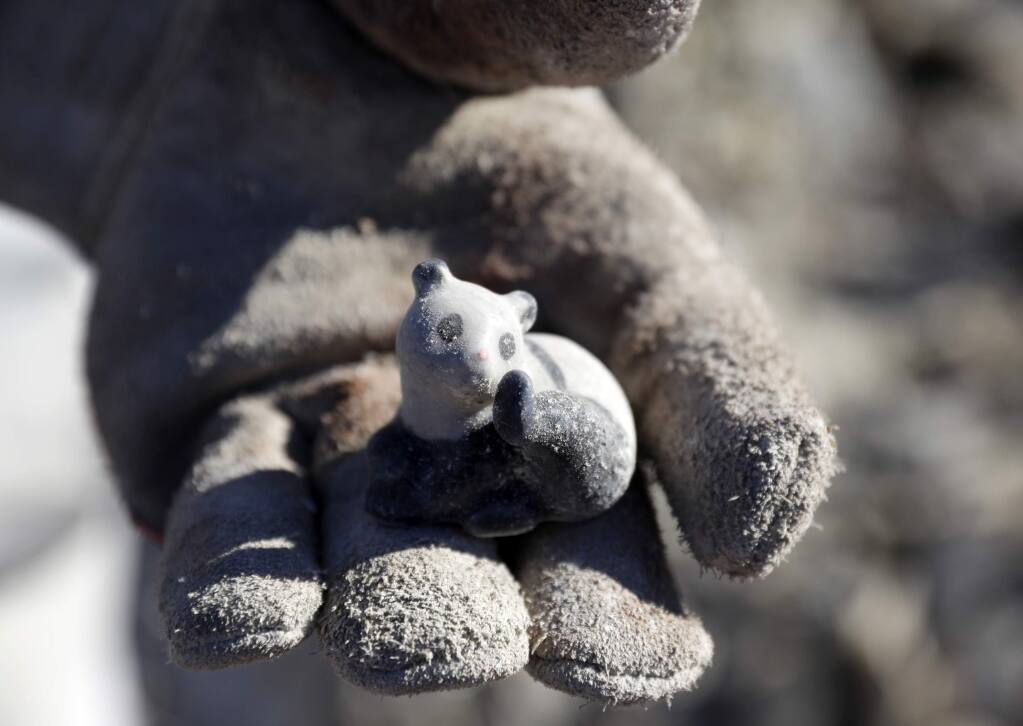 "That was something that struck me in interviewing other people, other fire victims," he said. "Almost all of them said, 'Idon't have it so bad, a lot of people have it worse than me.' Almost everyone said some version of that: 'I have to help because other people have it worse than me..'"
Fies said the Tubbs fire and the process of creating "A Fire Story" changed his perspective on comics. The stories worth telling, he said, are those filled with passion and immediacy.
"The best stories are the ones you have no choice but to tell," he said. "I had to tell 'A Fire Story.' As soon as I knew my house was gone, I knew I was going to tell the story."
You can reach Staff Writer Danny Mueller at danny.mueller@pressdemocrat.com. On Twitter @D_Muel