Lindsay and Eric Wood bought and flipped a few houses in their day. Still, they didn't have a home of their own. But in 2017, after years of being subject to the rising whims of the rental market in Marin County, they said, "enough."
The pair decided their best path to homeownership was to shrink their footprint and go tiny.
They found a contractor to build them a tiny home, a compact and efficiently designed residence on wheels that would have all the comforts they needed but not a square inch of wasted space.
"We had spent a total of $100,000 in rent in seven years. That pretty much could have paid for a tiny home," Lindsay said.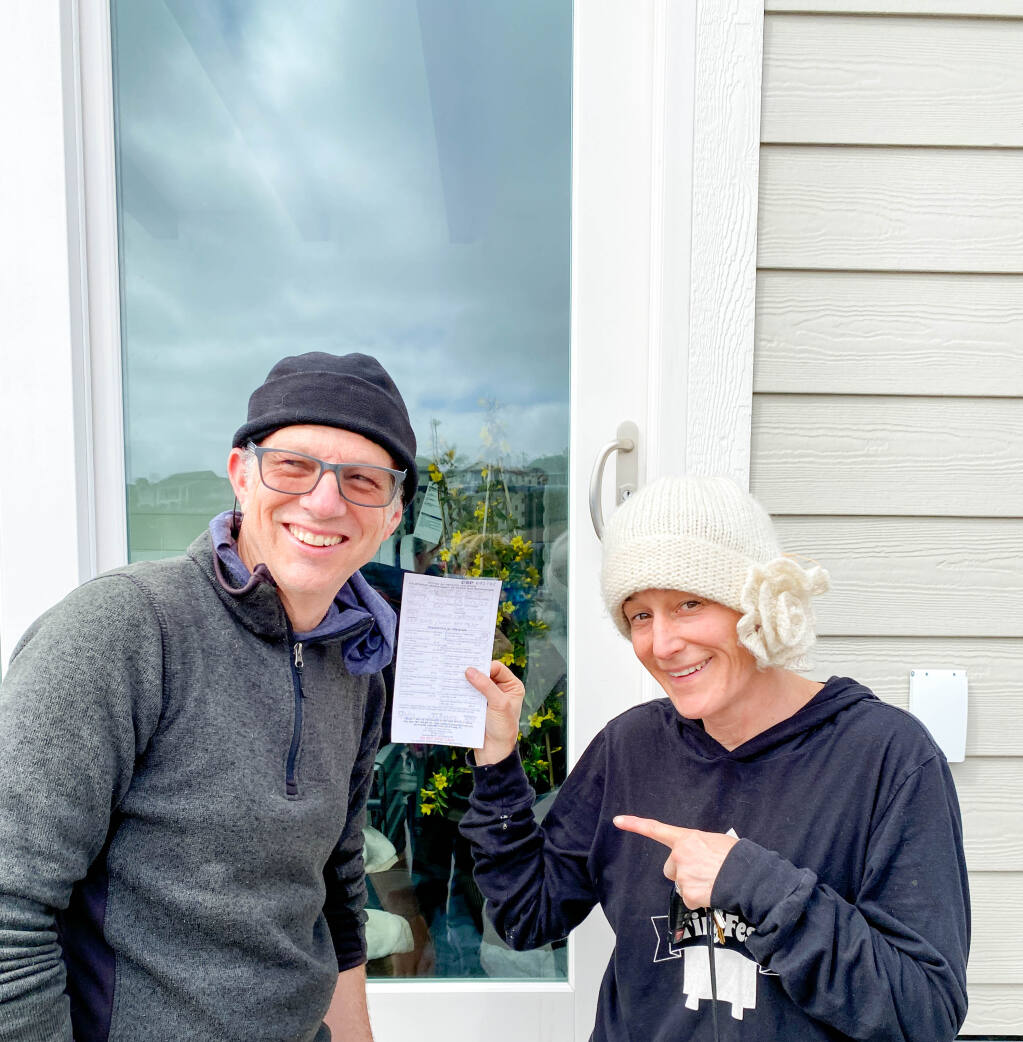 Lindsay is now known as the Tiny Home Lady, she said in a phone conversation from her home office/guest bedroom, a 30-square-foot nook tucked behind their loft bedroom. The home office is in the "gooseneck" part of the tiny house, the extension that fits over the flatbed of a truck when the house is hitched up to be pulled.
"I have my computer, my printer and a file cabinet, which was custom-built. I love that when I pull out my drawer, I've already got a file cabinet embedded in the drawer," she said of her tiny office in her tiny home.
A 6-foot-tall man could stand upright in the space, which also doubles as a closet for Lindsay's carefully curated wardrobe.
"I don't have a lot of clothes," she said. "But the clothes I do wear are my favorites. High quality, low volume."
Since downsizing into her 380-square-foot home on wheels, Lindsay has become an expert on living small, parlaying her experience into a profession. As the Tiny Home Lady, she serves as a consultant to both potential buyers and builders of tiny homes.
She and Eric, a chef and caterer, travel around to various home shows and tiny-home expos. She is bringing her "Go Tiny! Showcase" to the Sonoma County Spring Home and Garden Show Saturday and Sunday at the Sonoma County Fairgrounds.
There will be several models of tiny homes to tour and a mobile exhibit of information about companies that are leading the way in the burgeoning tiny-home industry. That includes contractors and companies that deal with a range of tiny-home needs, from radiant-heat floors to compost toilets, off-the-grid solar energy systems and on-demand water heaters.
Lindsay also will have information on specialists in financing, permits and foundations and "the tiny luxe lifestyle," to help potential buyers figure out if a tiny house is for them.
A lot of reasons are fueling the market for tiny homes, but probably the most prevalent, certainly in the Bay Area, is the lack of affordable housing.
People could buy something very miniature and minimalist for under $30,000 for basic shelter. But for $100,000 to $125,000, a buyer could get a home of several hundred square feet, Lindsay said, outfitted with the comforts of a larger home such as upgraded finishes, mini-split heating and cooling, kitchen appliances and a full bathroom.
Restrictions eased
Jay Shafer is considered the "godfather of tiny houses." He's the founder of the Tumbleweed Tiny House Co., which at one time was based in Sebastopol. Shafer lived there in a 106-square-foot house that caused a media stir and helped launch a movement more than 20 years ago.
It's been a long and bumpy road to acceptability for tiny homes. As much as people love the idea of tiny homes, as accessory or primary dwellings, zoning laws and building codes have made it tough, if not impossible, for many owners of tiny homes to find a place to legally put their dwellings.
That is slowly changing, Lindsay said. Los Angeles, San Diego and Santa Cruz are among 16 cities and counties in California that have recently relaxed their laws to make it easier to find a place for a tiny home.
Earlier this week, Sonoma County joined them. After years of debate, complaints and evictions, the board of supervisors voted unanimously to remove some of the main impediments to placing tiny homes in unincorporated areas.