These women are shattering the glass ceiling in the wine industry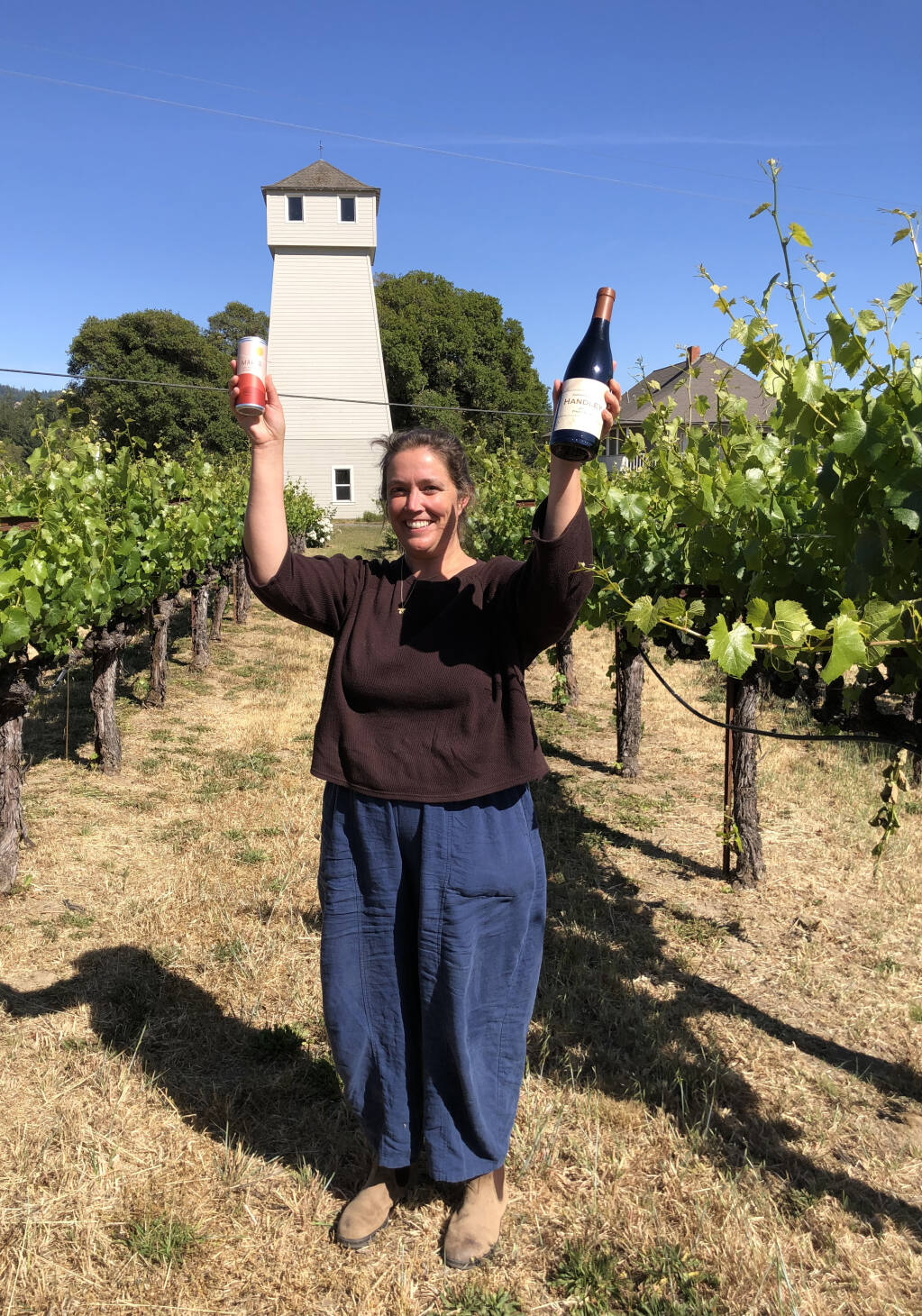 Gianna Fugazi said she was raised to be both a lion and a lamb, tough enough for farming, yet tender enough to hold on to her feminine identity.
"I have two brothers, and my father's a farmer," the winemaker said. "My dad always wanted me to have all the opportunities to grow."
To mark International Women's Day March 8, we introduce you to Fugazi, the 33-year-old Sonoma County winemaker who created the Wander-Must label. This month she joins five other women featured in a six-pack of canned wines highlighting women-owned brands.
The $56 six-pack also includes a zinfandel, a sparkling riesling, a rosé, a chenin blanc and a pinot gris, produced by winemakers throughout California.
Maker Wine Co. is the company behind the six-pack, a changing mix of wines from up to six separate brands. The Novato-based company, founded in 2020 by women entrepreneurs, works with winemakers to can their small-production wine. It created the six-pack, called A Week of Women-owned Wine, to celebrate women breaking through the glass ceiling in the wine industry, according to co-founder Sarah Hoffman.
Launched in March of 2022, the six-pack's popularity convinced Maker to offer it year-round. Ninety percent of the company's consumers are millennial women, roughly ages 35 to 44, and the six-pack quickly became the company's No. 2 seller (makerwine.com).
Fugazi's addition to the lineup is a vintage 2022 verdelho, a grape varietal that originated in Portugal and is rare in California, with only 300 acres planted in the state. The winemaker grooms her grapes in a Lodi vineyard next to a river in fertile ground.
Growing up in a farming town, Fugazi said, set her course. Linden, near Lodi, has a population of 1,200 people. There, her family grew cherries and walnuts.
"My dad was a first-generation farmer, and my mom's family came from Italy as farmers. So I think my fierce determination to be a first-generation winemaker is genetic," Fugazi said.
"My dad calls winemaking 'fancy farming,'" she added with a broad smile.
Glass ceiling in winemaking
Fugazi calls harvest "organized chaos." In February of 2013, she went to Chile to organize the chaos at Veramonte Winery. But when directed to work in the lab, a traditional role for women working at the winery, she stood her ground.
"Instead, I managed tanks with fermentations and pumps," she said. "I did more labor-intensive work, so they were surprised."
When she returned to the U.S., Fugazi had the same resolve. She refused to be bound by any limitations when she began as a harvest intern at Flowers Winery in 2012.
"My goal was always to be assistant winemaker at Flowers, so I set my goal and worked to get there," she said.
At Flowers, which then produced wine in Sebastopol, Fugazi moved through the ranks from intern to a member of the cellar crew to production assistant, eventually serving as assistant winemaker from 2015 to 2018.
As Fugazi ascended at Flowers, she created her label Wander-Must, a nod to roaming and the magic of the fermentation process. Must is the squeezed grape juice to be turned into wine. She began this wine odyssey by crafting 150 cases of merlot. Today she produces just under 500 cases of three varietals. In addition to the verdelho, she produces a chardonnay and a pinot noir.
With her husband Alejandro Castillejo handling operations, Fugazi said, she can focus on winemaking and the expression of the fruit. The couple lives in Healdsburg, with their two daughters, 11-year old Esme and 4-year-old Roxann.
Collaborating with Maker initially in 2021, Fugazi canned 5 to 6 tons of verdelho fruit that year. She will continue with this amount this year, working out of the custom-crush facility Owl Ridge Wine Services in Sebastopol.
"I know Maker really wants to support women," Fugazi said. "They wanted to break through a ceiling to try something new and focus on quality wine in different packaging."
A relatively young winemaker, Fugazi said during her career she's seen an increase in women winemakers in the industry, and she's happy about that.
"We women winemakers seem to stick together pretty closely," she said.
Looking forward, Fugazi has every intention of raising each of her daughters to be both a lion and a lamb.
"I'll tell them to set their goals and grow to get there," Fugazi said. "I'll tell them to ask their networks and others to help support their growth. I'll tell them that while all things take time, you have to blaze your path by focusing on the goals you set for yourself."
Amplifying women's achievements
Showcasing women in winemaking is critical, according to Hoffman of Maker.
"The wine industry is still an old-boys' club," she said.
Female winemakers lead roughly 18% of the 4,200 wineries in California, according to Zippia, an online site that analyzes career data. Hoffman said 80% of the brands Maker works with are women-led, and she and her team want to amplify their voices.
"Distribution can be tough for their small wineries," she said. "Anything we can do to tell their stories benefits customers and the wine industry."
The founders of Maker, Hoffman said, had to break through their own glass ceiling.
"We definitely had to forge our own path, much like the female winemakers we work with," she said.
Hoffman said in 2019 everyone discouraged them from creating a commerce-based business around canned wine. Yet Maker's e-commerce business more than tripled in 2022.
"We were early to cans, and pre-pandemic we had an early shift to e-commerce," Hoffman said. "We saw the trends the industry is grappling with now. Having a fresh set of eyes in any industry can be helpful, and we really wanted to shake things up."
You can reach wine writer Peg Melnik at 707-521-5310 or peg.melnik@pressdemocrat.com.