Board hands down harsher penalty for Felta Creek timber owner's water quality violations
A timber owner whose logging operations fouled the sensitive Felta Creek watershed, allowing sediment to enter the salmon-bearing waterway near Healdsburg over two successive winters, was ordered Friday to pay $276,000 in penalties.
The North Coast Regional Water Quality Control Board's unanimous decision came as a severe blow to landowner Ken Bareilles, 81, who fought to deflect a proposed $251,000 fine during a 3 1/2-hour hearing only to have the board return with a harsher penalty given the importance of Felta Creek to coho salmon populations and the potential harm resulting from inadequate erosion control.
''The whole thing is speculative," Bareilles argued, challenging what he considered to be weak evidence and chastising water quality personnel for failing to use sensors or gauges to measure the sediment in streams.
Staffers for the water quality board said measurements weren't required after inspections over a year and a half continued to turn up on-the-ground evidence of absent or failed erosion-control measures that allowed silty water and mud to flow into Felta Creek and nearby tributaries to the Russian River.
"This was the sloppiest operation that I've seen on any active timber operation in my career," veteran board staffer James Burke, a senior engineering geologist, said in presenting evidence against Bareilles.
The requirements are pretty simple "dos" and "don'ts," he said, but "things from the don't list had been done and things from the do list that should have been done were not. ... We observed conditions that were far outside of the norm."
Bareilles, a Eureka attorney and licensed timber operator, was charged under an administrative civil liability complaint with seven violations for conduct uncovered since 2021. Five were for unauthorized discharges into waterways and two for failing to comply with an order to file remediation plans as required.
A cleanup and stabilization plan — required under an emergency order issued Jan. 4, 2022, after observations of actual and threatened sediment discharge on the 106-acre logging site — was 38 days overdue, meaning storm season was nearly over and it was too late to take action to prevent further damage, staffers said.
A second action plan — required under a second, long-term complaint issued in draft form last June and finalized Sept. 13, 2022 — required submission of a long-term plan that was finally filed June 6. It was 235 days late.
In the meantime, winter passed, bringing weeks of extreme rainfall in January that resulted in additional sediment flow to the creek that could have been avoided, engineering geologist Izaac Russo told the board.
Bareilles, Russo said, knew of the threat but chose not to implement sufficient erosion control, a sign of "gross negligence," he said.
Bareilles, who already had a history of land-use violations in Humboldt and Mendocino counties, bought the 160-acre property at issue in 2015 with the intent to log redwood and Douglas fir, then sell it for home sites.
But while his 2017 timber harvest plan was initially approved by Cal Fire, neighbors and environmental groups long critical of him and his plan sued the state agency, forcing it to rescind its approval.
Critics feared erosion and mudslides could harm the creek if the logging went forward. They also worried that travel by 40-ton logging trucks along the narrow gravel road running alongside the creek would contribute to sediment in the waterway and damage to the private road.
The Russian River and all its tributaries are listed under the federal Clean Water Act as impaired for sediment and temperature. Clouding or turbidity in the water can prevent sunlight from reaching aquatic plants, clog fish gills, reduce visibility and make it difficult for fish to find food, mates and protective cover, among other harms.
Felta Creek, a clear, cold stream that winds through the hills about 3 1/2 miles southwest of Healdsburg, is one of the last tributaries in the Russian River watershed where wild, endangered coho salmon are found, making it particularly vulnerable to impairment.
Bareilles, whose land is near the headwaters, revised his timber harvest plan in hopes it might still be approved. It was still being processed when he decided the decision had been too long delayed, and he refused to grant an additional extension, prompting rejection of the plan.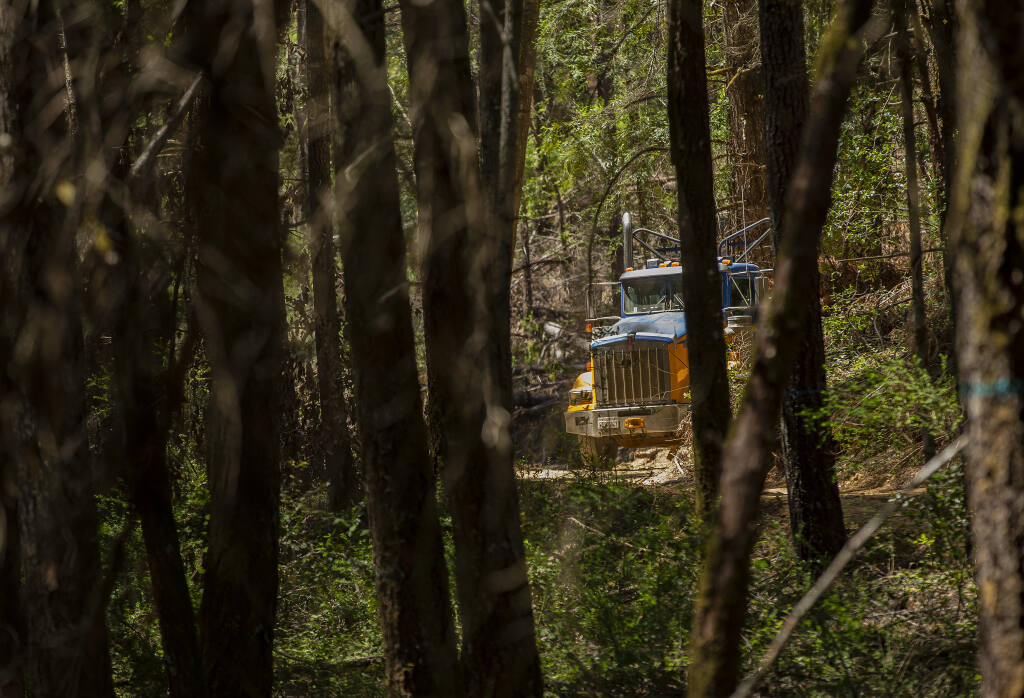 But within weeks, the Walbridge Fire of August 2020 broke out, sweeping across the hillsides west of Healdsburg. About 106 acres of redwood and Douglas fir trees Bareilles had hoped to sell were damaged by a back fire set by Cal Fire on his land.