Extending north of Clear Lake across nearly 1 million acres of mountainous terrain folded into steep slopes and canyons, the Mendocino National Forest has long served as both playground and sanctuary, an expanse of wildland cut by boulder-strewn streams and covered in chaparral, forest and meadows.
But much of that once lush landscape is now bare and blackened, a scorched shadow left by flames that ran roughshod over eastern Mendocino County and northern Lake County in two separate fires sparked on the same day in late July.
Other wildfires have shocked and devastated California of late, including the North Bay's 2017 infernos and November's Camp fire in Butte County, the deadliest, most destructive wildfire ever recorded in the state.
But the Mendocino Complex fire remains the largest in California history, blackening more than 700 square miles of land - an area so large that if placed on a map of the urban Bay Area it would span from San Francisco to the outskirts of the East Bay and down the peninsula to South Bay, blotting out a region home to millions of people.
But because it burned in rural territory, the Mendocino Complex fire destroyed relatively few homes - 157 - along with 123 other structures. A Utah firefighter was killed in August battling the Ranch fire, the larger of the two blazes. The causes remain under investigation.
It took more than seven weeks to contain the fire complex, at an estimated cost of more than $200 million. Three months later, the scars on the land have just begun to heal. While impressive from ground, the extent of the burn zone is overwhelming when witnessed aloft. Ridge after fire-scorched ridge stretches to the horizon.
"It is shocking when you're up in the air. It is just huge," said Mendocino National Forest Supervisor Supervisor Ann Carlson. "Even when you're driving around it, you're like, 'Wow. This is still the same fire over here, too.'"
Some isolated areas of green have begun sprouting, but vast swaths of the landscape are still barren of plantlife. Charred trees stand on some hillsides or lie like toothpicks along dirt roadways that snake without any cover across the naked ground.
More than a quarter-million acres of national forest lands remain closed to the public. The hazards for visitors include the thousands of standing dead trees and stumps, with plans underway to cut and salvage some of the still-valuable timber. Exposed soils on steep grades and along watersheds also present risks of slides and harmful runoff into the region's waterways.
The health of Clear Lake, the environmental and economic heart of Lake County, could be at risk, said Lake County Water Resources Director David Cowan.
"We haven't seen enough run-off to know what the impact is going to be," he said.
The unmeasured toll
The two fires that made up the 459,123-acre inferno began July 27 in eastern Mendocino County about a dozen miles and an hour apart.
Flames pushed east into Lake County, racing across rural areas to threaten communities on the western and northern shores of Clear Lake, including, Lakeport, the county seat.
"The sky was so dark, it was like Mordor," said Cheryl Carr, who was powerless to save her home off White Canyon Road north of Upper Lake. Her sister and her brother also lost their homes on the same property.
Still, in a county besieged by wildfire like few others in California over the past three years, some Lake County residents said they were surprised the destruction was not much worse.
"The Ranch fire was so giant, but I feel like we really dodged a bullet," said Carr, a former California Conservation Corps firefighter.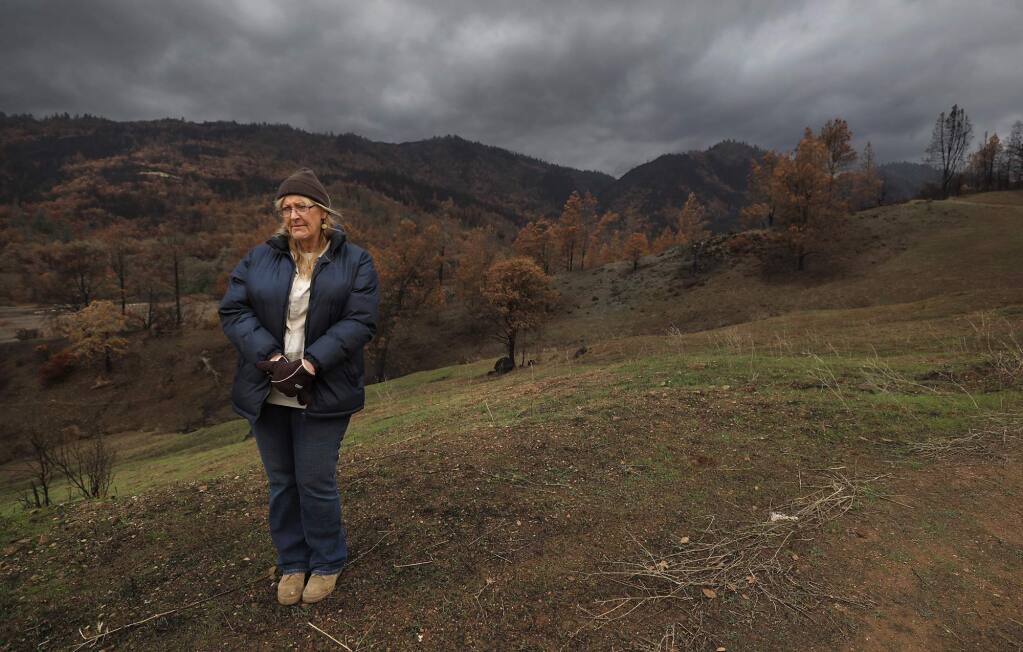 Many of the thousands forced to evacuate ultimately had homes to which they could return, though the intervening days and nights of uncertainty and upended schedules took their own economic and emotional toll.
"We had a lot of people in the local assistance center looking for food, basics, anything to help them get by to the end of the month," said Lake County Supervisor Jim Steele, whose north county district includes much of the fire zone. "So that was a big hurdle as well."
The smaller River fire was contained after 26 days at 48,920 acres. It burned through almost 30,000 acres of the federally operated Cow Mountain Recreation Management Area, forcing managers to indefinitely close the southern part of the popular site for off-road vehicle enthusiasts.
The Ranch fire continued burning several more weeks, spreading across public lands to menace rural areas in two other Central Valley counties - Glenn and Colusa - a straight-line distance of roughly 40 miles from the fire's origin, and a much longer drive on winding, smoke-filled roads.