Russian-Eel river stakeholders launch new effort to find path forward without defunct power plant
They come from four counties and have only months to work. Their interests often diverge and sometimes even conflict with one another. But they have a common goal: Find a path forward in a world without Pacific Gas & Electric's Potter Valley power plant.
The stakeholders include water providers, agricultural users and elected officials whose constituents depend on diversions from the Eel River to help fill Lake Mendocino and feed the upper Russian River in Mendocino and Sonoma counties.
They also include fishery interests that want two aging dams removed from the Eel River to improve fish passage and restore the river's ecological function. Among those interests are Native American tribes, who for more than a century had their historic fisheries and water sources seized from their control for the benefit of others. The tribes are joined by Humboldt County representatives long troubled by impairment of the Eel River's salmon fishery and water supply.
And still other interests come from Lake County, which could face the loss of Lake Pillsbury, a well-developed community and recreational hub formed by the impoundment of the Eel River behind Scott Dam.
Finding consensus through the mire would seem a Herculean task — and not a very fun one.
But more than 30 people have agreed to give it a go as members of a newly formed group called the Russian River Water Forum, initiated by the Sonoma County Water Agency and several partners.
The goal is to explore ways to maintain flows in the Russian River once PG&E decommissions an inoperative power plant while also "protecting Tribal interests and supporting the stewardship of fisheries, water quality, and recreation in the Russian River and Eel River basins," according to its draft charter.
The power plant for more than 100 years required transfers of Eel River water through a milelong tunnel to turn turbines for hydroelectric power. The water then streamed into the East Fork of the Russian River. There, some was extracted for irrigation in Potter Valley. The remainder made its way to Lake Mendocino for release into the Russian River for fish, recreation, agriculture and human consumption.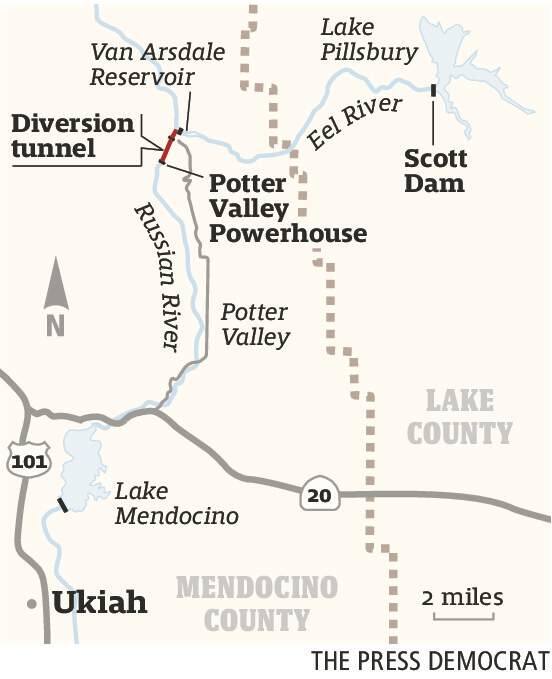 The stakes are high — "scary," says Mike Thompson, assistant general manager of the Sonoma County Water Agency, known as Sonoma Water, a wholesale provider that supplies water to more than 600,000 people in Sonoma and northern Marin counties.
Studies using 110 years of hydrologic data show Lake Mendocino would go dry in roughly two of every 10 years without continued Eel River contributions. In eight out of 10, the reservoir would be unable to meet all the demands on it.
"The potential impacts are pretty severe, especially in the upper Russian River," Thompson told The Press Democrat.
And tensions already were evident in a kickoff meeting Wednesday that was held in-person in Ukiah and on Zoom, though online participants were challenged to follow the conversation because of poor audio from the conference room.
Feasibility studies already underway show retaining some remnant of Cape Horn Dam, the smaller of two dams that are part of the hydroelectric project, may allow continued water transfers into the Russian River, according to Sonoma Water's David Manning, environmental resources manager.
Conservation representatives from groups like Cal Trout and Friends of the Eel River, however, were plain in their calls for urgent removal of Scott Dam and Cape Horn Dam, located 12 miles downstream at the entrance of the diversion tunnel.
Scott Dam blocks access to hundreds of miles of upstream watershed that historically provided critical spawning and nursery habitat for federally protected Chinook salmon, steelhead trout and Pacific lamprey.
Cape Horn Dam, though equipped with a fish ladder, is only partially functional and exposes vulnerable fish to predation and high water temperatures that can harm already threatened species.
PG&E plans to have the dams removed as part of decommissioning process, but with its license already expired, conservation and fishery groups say it's currently violating the Endangered Species Act. Tuesday they filed suit against the utility to that effect.
Several of the five plaintiffs — Friends of the Eel River, the Pacific Coast Federation of Fishermen's Associations, the Institute for Fisheries Resources, California Trout and Trout Unlimited — have representatives on the Water Forum Planning Group or contributed to Wednesday's dialogue.
Their interests overlap with local tribes, some of whom revealed in their comments the pain and offense suffered over a century of diversions. Those diversions came at great cost to their people's water supplies and fishing traditions, even after their ancestors had stewarded the rivers "for time immemorial," as one said.