This series was the topic of KQED's live call-in show "Forum with Michael Krasny" on March 30. Listen to the broadcast here
At first, Karla Orozco blamed herself for the filthy living conditions in her family's east Santa Rosa apartment — mold growing on the walls and ceilings, as well as repeated rat and cockroach infestations that she and her family endured for years, despite her meticulous cleaning habits.
The conditions worsened in 2014 when she said the apartment's heater broke. Sewage kept backing up and spilling onto the bathroom floor. Rats had chewed holes in the walls behind the refrigerator and stove, infiltrating the apartment where she lived with her husband and their three children.
'It was a very difficult time,' Orozco, 35, said, choking back tears.
'We were stressed out a lot, and I was sick. My kids were sick,' Orozco recalled, describing the five-year period she said was marked by constant fights with her landlords about the living conditions and requests for repairs.
Orozco's experience is a familiar one for many of Sonoma County's poorest residents. The exact number is difficult to quantify, but hundreds of people in Sonoma County, perhaps even thousands by some estimates, live in housing so run down that it puts at risk the tenants' health and safety, a yearlong Press Democrat investigation has found.
Squalid conditions have been reported in hundreds of housing units across the county, mostly in apartment complexes, public records show. Complaints by tenants to city and county code enforcement agencies, analyzed and tracked over the past six months by The Press Democrat, detail chronic problems with mold, infestations by rodents and other vermin, inadequate heating and broken plumbing — conditions that qualify as 'substandard' under state laws meant to prevent people from living in slum housing.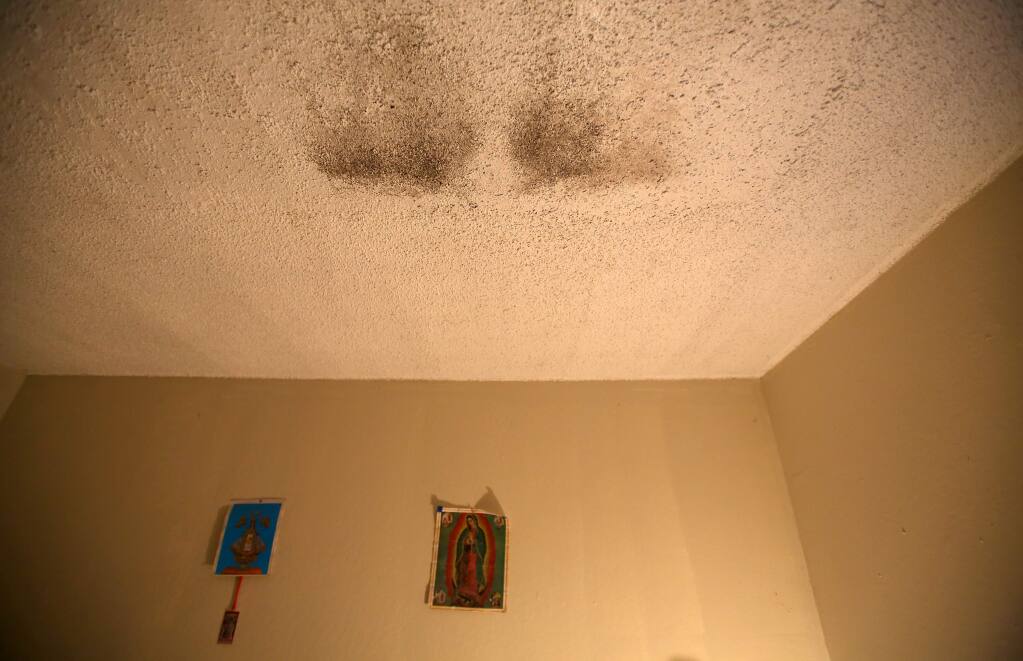 Inspectors say it is impossible to keep up with complaints against offending landlords.
'We have north of 2,000 open cases, and five code enforcement officers, so you do the math,' said Mark Setterland, Santa Rosa's chief building official, who oversaw the code enforcement division until November. In addition to substandard housing complaints, the division oversees enforcement of illegal marijuana growing, unpermitted construction, weed abatement and other activity. 'It's a huge backlog, and we never catch up. There are a lot of very savvy landlords out there who definitely know how to game the system, but because we are grossly understaffed, we just don't have the resources to really bring the full might of the system on some of these people.'
As complaints stream into county and city departments every week, the number of unresolved cases has ballooned over the past five years. More than 250 cases remain unresolved throughout the county. The majority — 170 cases — have been opened in the past 10 years. About a quarter were opened last year. A few have lingered over three decades.
Unresolved substandard housing cases in Sonoma County (Click on red dots for more information)
Often, the county and local cities have been unable — or simply unwilling in some cases — to carry out enforcement, The Press Democrat investigation found. The result, largely a reflection of elected officials' political priorities, has left residents, mostly poor people, stuck in squalid conditions that can make them sick or contribute to an existing illness, according to doctors, health experts and attorneys representing tenants.
'There are some landlords out there who are adept at doing the bare minimum to get us off their backs,' said Setterland. 'But with the caseload as high as we have, when something comes off our radar, it stays off the radar for a while, then we might get another complaint and we have to say 'Come on, you haven't done anything for three years.' '
The problems are likely worse than inspection records and tenant complaints show, according to local tenants' rights attorneys. Many residents are hesitant or afraid to speak up, with some fearful of losing their housing altogether in the county's increasingly tight rental market. Instead, residents stay silent and endure steadily worsening conditions, according to the attorneys, who've seen their own caseloads spike in the past five years.