Soul Cotton, 53, was diagnosed with stage four lung cancer three months ago. He uses a walker to tread the gravel and dirt driveways of the makeshift trailer park where he's lived the past six years.
Amid a ramshackle assemblage of recreational vehicles, trailer homes, auto parts and junk, Adrian Cholula Gonzalez, his wife, Yasmin Lara, and their autistic son also have put down roots here.
Elizabeth Peterson, 64, has lived here with her daughter for 12 years. Peterson, who has a medical condition that causes swelling in her left leg and limits her mobility, cares for her daughter, who suffered a traumatic brain injury as a child.
Along with a couple dozen others, they are among a diverse group of residents who have been told they must vacate their homes at 890 Rockwell Road, just outside Cloverdale city limits.
Gary Gerdes, their longtime landlord who for years operated a nearby auto wrecking yard, recently sold the property to a Cloverdale couple who want to make upgrades.
Rents the residents pay for their spaces are still in the hundreds of dollars, and many say they will be forced to flee the county or, worse, become homeless if they have to leave.
The case pits the right of property owners to maximize their investment against the need for people on the margins to have affordable places to live. But it is also a timely and tragic illustration of one of the defining issues of Sonoma County.
"Where are we going to go?" said Antonio Maldonado Lopez, 63, who has lived at the trailer park for 28 years. "The river is already filled with homeless."
The new owners, Curtis and Rebecca Clemmer, who run a construction business, say they're not trying to hurt anyone. But now that they own the property, they need to make major improvements to reduce their liability and create a better community in that area. They wasted no time.
On Aug. 1, six days after the property sale was recorded at the Sonoma County Clerk-Recorder's office, residents said Sheriff's deputies delivered "termination of tenancy" notices to all the residents at the trailer park. The notices were made out to "John Doe/Jane Doe," with one for every unit or space number at the park.
For decades, the unsightly property, bordered by Alexander Valley vineyards to the south and Big Sulphur Creek and the Russian River to the north, has offered the nearly 30 residents a refuge from the crippling rents and housing costs that plague Sonoma County and the rest of the Bay Area.
Unlike the scenic vineyards of Alexander Valley, the lives of those who live in Gerdes Apartments and Trailer Court are hidden from view. You can't see them from Highway 101 and you won't find them profiled in the pages of Sonoma County tourist magazines.
Their lives in Sonoma County had for a long time been tenuous, dependent largely on one family's ownership of the trailer park. But now they face the unforgiving hunger of Sonoma County's housing market.
Some residents said Gerdes, the previous owner, was flexible and often let them shave portions off their rent in exchange for work at his wrecking yard. But those days are over. The new owners say they can't afford such arrangements.
"$400 is not going to cover … I have to pay for water … I'm paying for garbage, and I don't know what else I have to pay for," Rebecca Clemmer told The Press Democrat.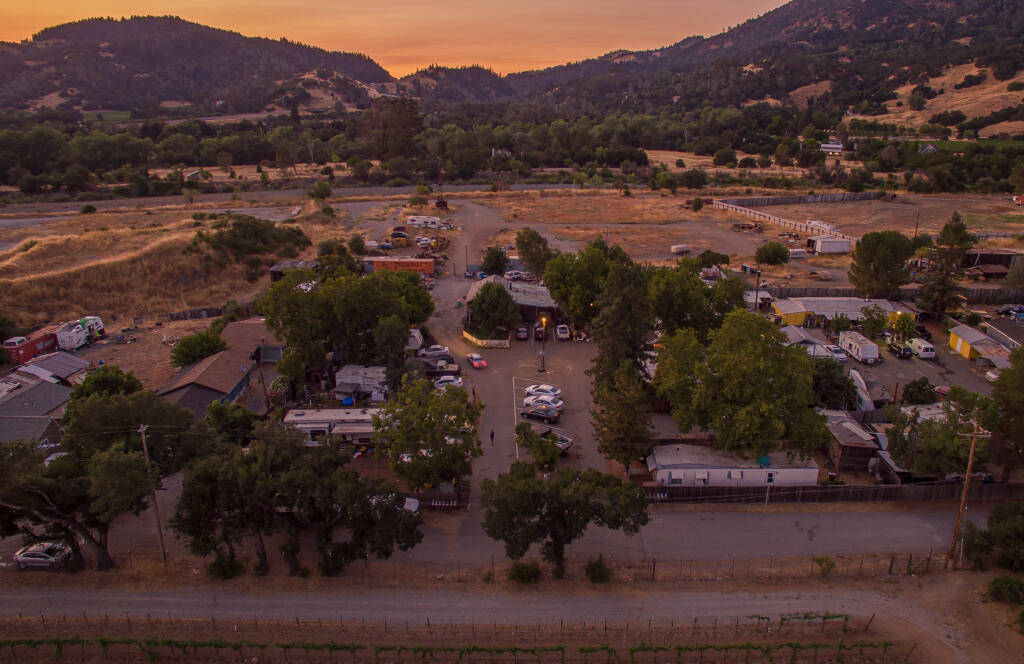 Gerdes' parcels
The trailer park is spread over four parcels — encompassing no more than 2 acres — of the 33 acres Gary Gerdes sold to the Clemmers in July.
A rusty basketball hoop sits in the middle of the parking lot. Tools, old furniture and broken appliances are strewn throughout. Several pets freely roam the property, receiving friendly greetings from the residents. They live in an array of aging RVs, trailers, fixed wooden structures and very old mobile homes that have been there so long they appear rooted in the gravel.
Numerous shade trees and shrubs offer respite from Cloverdale's summer heat.
One of the residents being displaced is actually the sister of the former property owner, Gary Gerdes. Julene Gerdes said she was kept in the dark about the future of the property as much as her neighbors.