Shelter space limited for thousands of Sonoma County residents fleeing Glass fire
This time, Jordan Castaneda fled.
At 1 a.m., Monday, about two hours after his sister and her children evacuated from the home they share in Rincon Valley, he weighed his options: stay and fight the flames from his neighborhood the way he did three years ago during the Tubbs fire, or run.
He decided he wouldn't have what he needed to make it out alive if the fast-burning Glass fire reached his east Santa Rosa neighborhood.
"Sometimes you gotta know, it's time to leave," Castaneda said, sitting Monday afternoon in the open trunk of his weathered Mercedes-Benz SUV, his dog Hilo panting at his feet. The car was parked outside A Place to Play, one of several evacuation sites Sonoma County and local organizations set up for those out of the roughly 68,000 evacuees that needed a place to go.
At least six shelters were opened Monday to house residents fleeing east Santa Rosa neighborhoods threatened by the growing Glass fire. Several sites quickly reached capacity since the coronavirus pandemic limited the number of people allowed inside.
Early Monday morning, evacuation areas at Sonoma County Fairgrounds, the Santa Rosa Veterans Memorial Building, the Petaluma Veterans Building and the Sonoma-Marin Fairgrounds in Petaluma were full with as many as 100 people at each — a fraction of their usual capacity to account for physical distancing.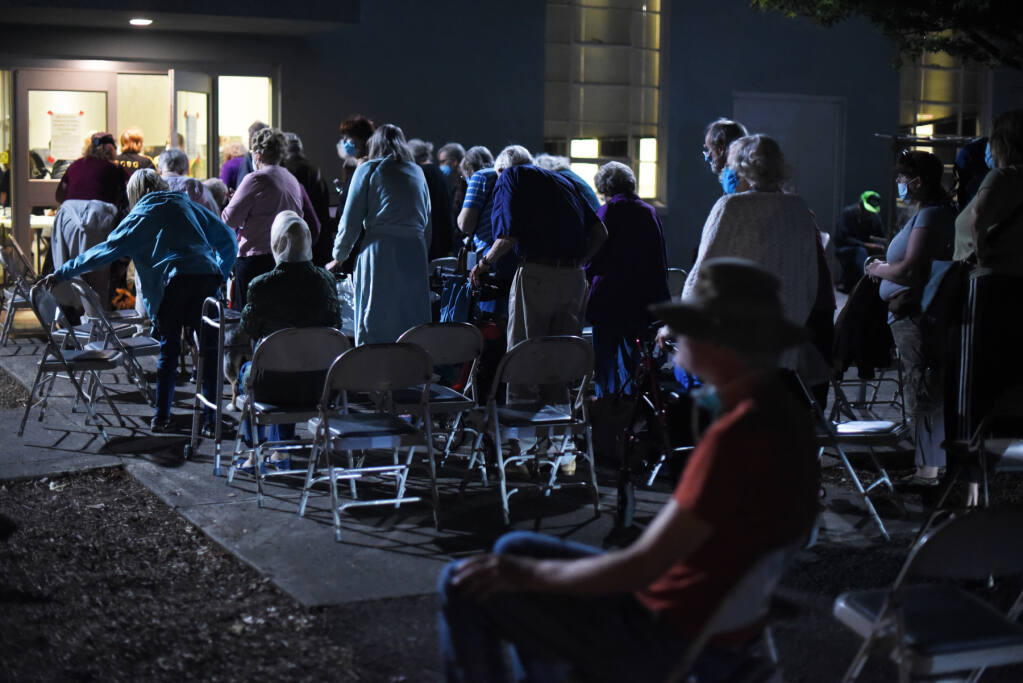 Some evacuees waited in line for hours before they were told there was no more room to safely accommodate them. Buses of seniors who live in east Santa Rosa's retirement communities were shuttled or drove from one center to the next, as each site filled within a matter of hours or less.
About 300 people who were bused out of Oakmont Village and turned away from Santa Rosa's veterans building arrived at the Sonoma-Marin Fairgrounds at 3:30 a.m. before the gates had been unlocked, CEO Allison Keaney said. They could only house a third of them in three separate buildings along the property, she said.
Throughout Monday, churches and community organizations began opening their doors to offer more space for people displaced. Sonoma Raceway opened 50 acres for tent and RV campers. Evacuees also had the option to receive services at A Place to Play in west Santa Rosa, one of multiple so-called temporary evacuation points the county deployed to offer short-term relief.
Sonoma County officials were readying additional sites Monday night, including Sonoma State University in Rohnert Park where its new sports complex was being transformed into a pandemic-safe shelter for as many as 300 people, Sonoma County Director of Emergency Management Chris Godley said.
Additionally, 50 suites that could house as many as 10 people each also were made available on-campus for residents with underlying health conditions and needed shelter in a safer, more isolated environment, Godley said.
As of Sunday, 1,137 people in the county still had active coronavirus infections, and Dr. Sundari Mase, the county's public health officer, has stressed the importance of including personal protective equipment in an evacuation "go bag."
"Unfortunately we still have months of fire season ahead of us and we need to do all that we can to lower (virus) transmission rates," Mase said recently.
Many evacuees sat in their cars in shelter parking lots, under the sweltering afternoon heat, or milled around the grounds, eager for updates on the fate of their neighborhoods.
At the veterans building in Santa Rosa, Elizabeth Woodworth said she spent the night in her car. She and her husband had evacuated, along with their son's dog and Woodworth's mother, before their neighborhood off Montgomery Drive received an official order.
Like many others displaced by the Glass fire, Woodworth had been through this three years ago when the Tubbs fire forced them to flee.
"It's just anxiety-provoking," she said.
Woodworth said her attitude toward salvaging her possessions has changed as she and her family now have been through multiple evacuations.
"You just don't put a lot of value on material things," she said. Besides a file cabinet of important files, some jewelry and a few changes of clothes, they took little else.
Ginny Richardson said she couldn't remember how exactly she had arrived at the veterans building in Santa Rosa Sunday night. The 93-year-old recalled evacuating from her home in the Spring Lake Village retirement community with another resident who was driving neighbors out.
"It's kind of a blur," she said.
Richardson sat outside the entrance to the shelter Monday morning, her small travel bag next to her, filled with some clothes and other essentials. She compared it to packing for a trip.
In October 2017, Richardson had fled the Tubbs fire's deadly march, and the experience of evacuating Sunday night instantly reminded her of the trauma.
"I just thought, deja vu all over again," she said. "I really don't want to do it again."
You can reach Staff Writer Yousef Baig at 707-521-5390 or yousef.baig@pressdemocrat.com. On Twitter @YousefBaig. You can reach Staff Writer Kaylee Tornay at 707-521-5250 or kaylee.tornay@pressdemocrat.com. On Twitter @ka_tornay.