Chabria and Smith: California's homeowners insurance market is collapsing
With another legislative session over in Sacramento, the problem lawmakers failed to fix is one of the most urgent facing Californians: the slow-moving collapse of the property insurance market as costs from climate disasters mount.
It "is not even a yellow flag issue. This is a waving red flag issue," Gov. Gavin Newsom said Tuesday when asked about the failure of the Legislature to act.
This year, multiple companies, including the state's largest home insurer, State Farm, have announced they are no longer taking on new residential and commercial properties, citing wildfire risk. In fact, seven of the 12 insurance groups operating in California — together, responsible for about 85% of the market — have pulled back.
But backroom talks among elected officials to figure out a fair and workable path forward to entice insurance companies to write more — or in some cases any — policies didn't go anywhere. Instead, lawmakers are vehemently pledging to hold public hearings this fall about the shrinking prospects for Californians seeking coverage for their homes and, by extension, their prospects for getting and hanging onto their mortgage during a deepening housing crisis.
If only insurance were as cheap as talk.
It is painfully clear that the speed and ferocity of climate disasters has intensified. Only eight months into 2023, the U.S. has recorded 23 climate-related disasters, each with damages of at least $1 billion, according to the National Oceanic and Atmospheric Administration. That shatters the previous record of 22 such disasters the entire year of 2020.
It is increasingly uncertain who is going to pay for all that damage, to, as much as possible, make whole all those upended lives.
Should Californians living in the most dangerous places, whether facing wildfires, flooding or sea-level rise, shoulder more of the cost for their risk? And does it matter that many such communities are low-income, filled with residents who have sought out these places precisely because they were priced out of cities that have refused to build more affordable housing?
Or should risk be shared among us all, no matter where we live? Higher insurance premiums across the board to stabilize an industry that we all need.
Or, should insurance companies be forced to somehow continue carrying the burden of climate disasters?
Rumor has it that a Legislative fix was held up largely because no one could agree on an answer. Even a compromise wouldn't be politically popular, which may be why that part of the debate has stayed largely behind closed doors.
But as Newsom pointed out, the pressure building on the insurance industry is "America's coming attraction in terms of impacts of climate."
That holds true for California with its eroding coastline, mudslides and fire-prone mountains; for Florida, Louisiana and Texas with hurricanes; for places such as Kentucky and Vermont where extreme weather has led to devastating floods.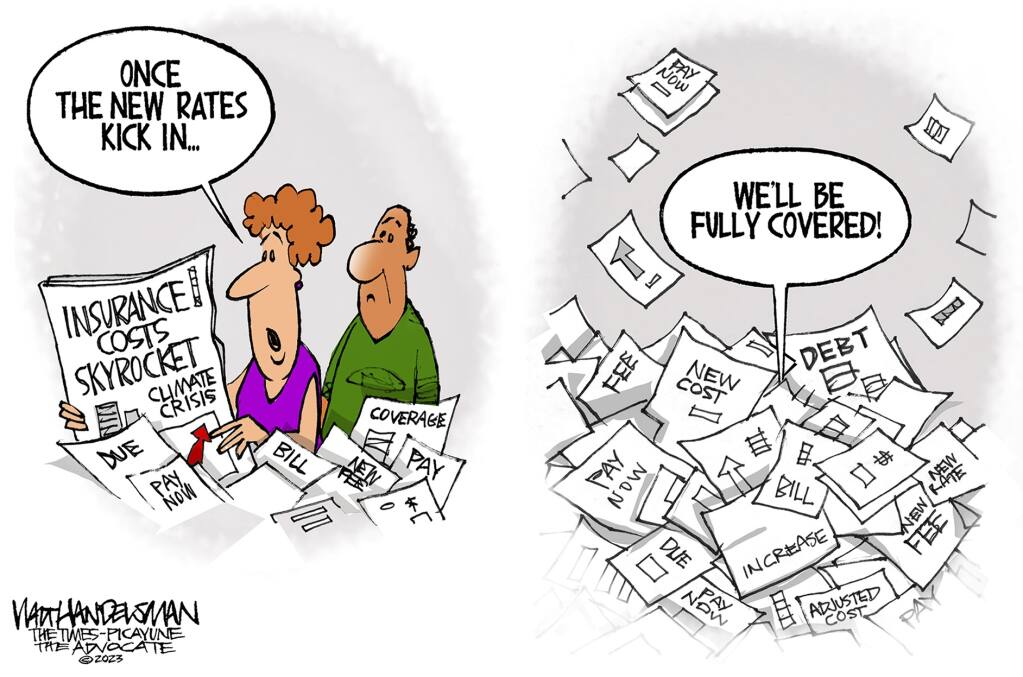 Even for renters and car owners, the cost of insurance is rising and will rise further as temperatures do.
"People can only afford so much, even middle-class people or upper-middle-class people. Throughout the United States, in different geographies, we're reaching a point where climate change is driving to an uninsurable future," said Dave Jones, a former California insurance commissioner and current director of UC Berkeley's Climate Risk Initiative. "The risk is too high, at almost any price."
Let us be clear on this: Of course, insurance companies want to maximize their profits. Of course, some of their claims around climate risk are posturing to increase rates. And yes, other factors including inflation on construction are part of the equation.
Climate change should not be a free pass to gouge consumers — despite all those disaster claims, insurance companies are still making money, though their profit margins might not be as thick as in the past.
But insurance is the safest bet against personal calamity, climate-induced or otherwise, so we need insurers to remain in the market. Which means we need to acknowledge that climate change has altered the math on protecting the places we live and work.
"How do we work together to solve this in a way where everybody feels they're sharing a lot of the burden?" asked Assemblymember Reggie Jones-Sawyer, who is a member of the Assembly Insurance Committee but wasn't directly involved in the negotiations in recent weeks.
Jones-Sawyer said he's deeply concerned about passing along the financial burden of climate disasters to consumers, specifically citing residents in his South Los Angeles district. In California, with its poverty and entrenched income inequality, many just can't afford it.