South Santa Rosa community wary of gang unit revival as they seek alternatives to fight gang violence
A group of about 20 boxing students scattered across the basketball court Thursday at Southwest Community Park in Santa Rosa to practice their footwork and swing at punching targets during an afternoon practice.
The sound of shuffling feet as the young boys and girls bounced from toe to toe on the concrete and the light taps of their mitts were only interrupted by coach Rosendo Sanchez's booming voice as he called out to his athletes.
The outside classes were being held just blocks from where two 15-year-old boys were shot and killed in separate acts of gang violence over an eight-day span starting two weeks ago.
The slayings weigh heavily on Sanchez, who is working to find a permanent home for his Corby Avenue gym, one of few such hubs for youth in a predominantly low-income and Latino neighborhood of southwest Santa Rosa.
Growing up in the neighborhood, he knows that many are at a pivotal age where, as he put it, they could take a hard turn one way or the other — get involved with gangs or channel their energy into a safe, productive alternative.
He takes a tough love approach with his athletes, chiding them for cussing on the court, holding them accountable if they step out of line in and out of school and always asking them to put in their maximum effort.
It's the type of program that Jose "Mico" Quiroz, a south Santa Rosa native and former gang member whose son boxes with Sanchez, said would've been key for him at an early age.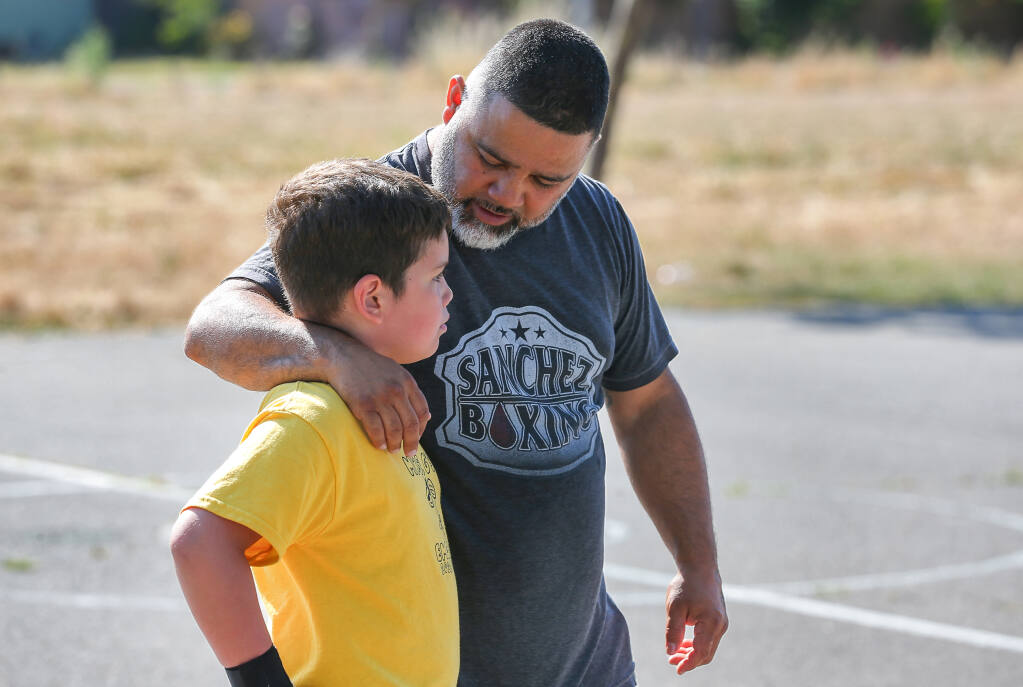 "As a young man growing up, the male role models that I had, the strong role models that I had, were gang members. They were in and out of prison, they were tattooed up, they were feared and respected in the neighborhood," Quiroz said. "Our young males, they think that being tough and being strong is being in gangs, is flashing a gun, and we need to show them that's not the case."
The two recent shootings have alarmed city and police officials and spurred Police Chief John Cregan to announce the revival of Santa Rosa's gang task force, shuttered amid fiscal and staffing woes in 2019.
The proposal has been met with a mixed response by south Santa Rosa leaders, residents and activist groups waiting to see how it unfolds given the historic impact of police enforcement in communities of color, including this corner of Santa Rosa.
For Cregan, a former gang sergeant who has championed community policing efforts since taking over the department last July, the spate of deadly gang violence and his closely watched response is taking shape as his stiffest test so far in office.
Council member Eddie Alvarez whose District 1 includes Roseland and surrounding parts of south Santa Rosa, has expressed skepticism about the plan. He also criticized Cregan for launching the unit without more feedback from those likely to be most impacted by the increased law enforcement presence in the community.
"We're asking mothers to make it OK for police to target their children, specifically brown children. I find that very disturbing," Alvarez said in an interview with The Press Democrat.
He and others worry the revival of the team could lead to the criminalization of a new generation of youth in south Santa Rosa.
There is room, some community members say, for greater police intervention to help curb violent crimes.
Still, a prevailing sentiment among residents and leaders in the area holds that the recent violence isn't necessarily a public safety problem that needs to be met with a hardhanded approach but a symptom of generational disinvestment that must be righted.
Cregan, in interviews with The Press Democrat and at a community meeting days after the second shooting, said the gang unit will provide the department the ability to investigate and prosecute gang crimes more effectively. Part of the team's duties will also involve working with community groups to help curb people from joining gangs and help them safely leave, he said.
"The most important thing to understand is the realities of combating gang crimes — you have to have an enforcement element," he said. "But you can have a gang enforcement team while still treating people with respect and dignity."
Cregan: 'A moment of opportunity for us'
There have been five homicides in Santa Rosa since Jan. 1 and police say four were gang-related.